Top #1 PR Firm Offers EliteWire Podcast
Do you have a successful business? You might be a candidate for the Annie Jennings PR firm's podcast series.
The opportunity is a FREE PODCAST on EliteWire that is all about you – it's a mini-commercial where you get to talk about your services and all the benefits of working with you. EliteWire is an expert round up for visitors who wish to learn more about your services and can do so by listening to your podcast with Annie's PR firm.
Annie's PR firm can give you a tremendous edge
Want everyone to know how fabulous you are? Here's an easy and fast way to obtain a highly effective promotional asset that showcases you in all your excellence. Get your booking on the EliteWire podcast series, created just for outstanding speakers and experts who are contributing at the highest levels of their topic area.
PR firm offers you a mini-commercial for your business via podcast
The EliteWire podcast offers valuable benefits. You get to enjoy a professionally produced "mini-commercial" that's all about you. You can use this to showcase yourself on your website and share on your social media. Your podcast will also be featured on the EliteWire blog that enjoys thousands of views from people seeking just the right relationship with a professional.
Be showcased on Annie's PR firm website
Be appreciated for your hard work. Not only do the other podcasters on EliteWire share your post with others, Annie shares it as well with her community of over 75,000 followers, as well as sponsors your post in various social media platforms, offering you additional exposure throughout.
PR firm offers the EliteWire Podcast at no cost
Who wouldn't want to showcase their business in this way?  A professional interviewer helps make it easy for you to be amazing in the podcast.
When you sign up using the link below you can speak with one of the producers of the EliteWire podcast and find out lots more.
Yes, this is a mini-commercial all about you, conducted by a savvy and professional interviewer whose skill set will make you look like a million bucks, yet all you are doing is answering questions about why you are the best choice for the big opportunity.
Here's how to be a guest on the EliteWire podcast. Just let me know of your interest by filling out this form: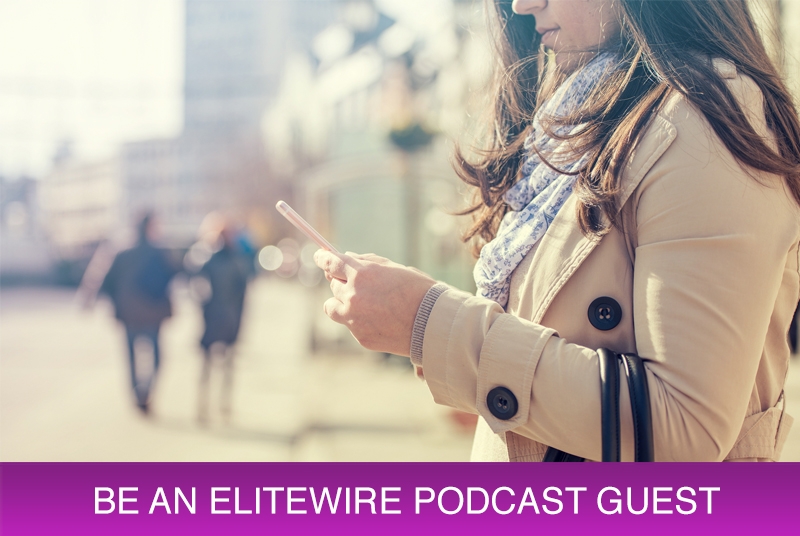 EliteWire podcast testimonial:
"I absolutely loved my experience with Annie's Showcase of Elite Experts podcast. The process was super easy, Stacy is a lot of fun to chat with, and having this interview really helps to bolster my profile as a podcast producer and consultant. It was worth every second of my time and I was thrilled with how the final product turned out! Thanks again!"
– Mathew Passy, Former Producer Wall Street Journal Radio Network
Simply visit http://www.anniejenningspr.com/elitewire/podcast-signup/ to speak with a producer and schedule your podcast time.
PR firm offers high impact radio talk show campaign with performance guarantee
About Annie Jennings: Annie Jennings is the founder of the National Publicity Firm Annie Jennings PR. Annie's PR firm offers radio talk show campaigns and her famous pay for performance publicity campaign where an Annie Jennings professional works closely with the client to target and secure media placements that further the client's brand and business growth model. It's powerful. And it's pay for performance.
Annie's PR firm is a successful publicity firm that leads the author community
National publicity expert Annie Jennings has innovated the publishing and author industry concepts for more than 20 years as the media has rapidly evolved. Annie has been a contributing commentator in the national media including Fast Company, Inc., Entrepreneur, US Weekly, TheStreet.com and been an invited speaker to NYU's Publishing Program, The Harvard Club, the American Society of Journalists and Authors and hundreds more.
Thanks. I look forward to speaking with you soon!
All heart, Annie