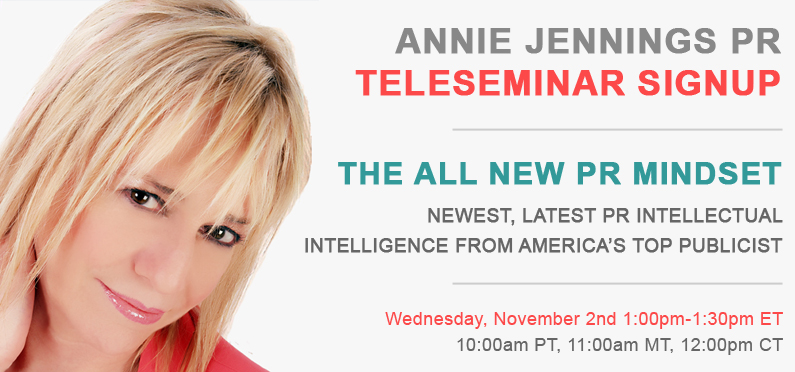 Teleseminar: The All New PR Book Promotion Mindset – 3 New Ways To Succeed With Publicity
Wednesday, November 2nd
1:00pm – 1:30pm ET
10:00am PT, 11:00am MT, 12:00 noon CT
Sign up box below
Join America's Top Publicist for an advanced, next level discussion on the latest thinking in the PR & book promotion industry that can benefit you:
What one piece of advice is precious?
Why must you know the answer to this one question?
When do you know when it's your personal GO TIME?
How can you avoid throwing your money away?
How can every penny you spend turn into an investment in yourself?
Red flags that what you are about to do is wrong
How do the big successful professionals use publicity to get to the top?
Join Annie Jennings for a live presentation that will get you pumped for your potential in publicity and book promotion. 

Must Be There: Don't miss this one of a kind presentation from one of the most respected publicists in the industry. Annie is well-known for introducing and implementing the most powerful media strategies used by millions of authors, speakers and experts today for book promotion, PR and publicity.
Be The First To Know: Now, you can hear what's next in publicity. Discover how to think about your entire PR strategy as it makes sense to your overall business growth strategy and personal goals.
Annie Can Book Big Media: As one of Annie's publicity clients says, "With Annie, be careful what you wish for, because she will get you there!"
Another one of Annie's PR firm clients says, "I chose Annie because I trusted her and she saw my tremendous potential."
Then Ken, one of Annie's real publicity clients says, "I worked with two PR firms before I met Annie. None of those firms could bring me the bookings I needed for my business growth strategy. Now, with Annie, I am a regular on one of the top national business shows in the country". And he is enjoying outstanding success with his business booming!
About Annie Jennings
Annie Jennings is the Founder & CEO of the national publicity firm, Annie Jennings PR, and has been a major player in honing industry best-practices for over 20 years. In a rapidly evolving media world, Annie has been a leading innovator of industry concepts and has been an invited speaker to NYU's publishing program, The Harvard Club, the American Society of Journalists and Authors and hundreds more.
Annie specializes in building clients up to reach their optimal potential.
And can she do it? YES!
And has she done it over and over? YES!
Go see Annie's real success stories for publicity and book promotion on her website (anniejenningspr.com/real-stories-of-success.html) that reveal the insider strategy Annie creates for each client that is personal to their unique set of circumstances.
Can she do it for you? Of course!