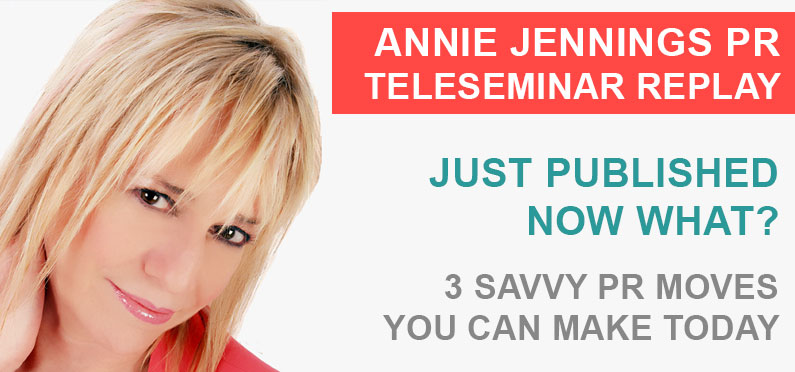 Listen Here:
Welcome to the Annie Jennings PR book promotion teleseminar series
Annie has tremendous experience, pioneering new publicity concepts to help others live their dreams and see their mission in motion. Annie has been a featured expert in the national media including Fast Company, Inc., Entrepreneur, US Weekly, TheStreet.com and been an invited speaker to NYU's publishing program, The Harvard Club, ASJA and more.
Stacy Amaral Kauffman is Annie's Radio Director and in addition to having 17 years experience in that role, Stacy also is a media personality on a major CBS Network radio station plus a weekly columnist for a major city newspaper, so she has great experience on all sides.
Discover 3 Savvy Publicity & Book Promotion Moves To Make Today
In this podcast, we discuss three savvy PR moves to make as a new author that matter. Writing and publishing your book is just the beginning! Here's why – Last year nearly three quarters of a million books were self-published, according to Bowker, a trade source that reports on the publishing industry. So how will you stand out? Do you have a name for yourself? Are you an expert in your field?
There are a few things you can start to do TODAY to set yourself up for your book promotion success
Know the value of your book and the 3 reasons a reader would want to buy it
Understand what your book can and can't do for you
Get out into the world and build an entire brand around your book using traditional media
Publicity and book promotion podcast offers special campaign just for authors on our teleseminar
Want to jumpstart your book promotion and publicity efforts? Annie Jennings PR is offering her special Author Advantage radio campaign that comes with unlimited media training, big shows in big markets and a performance guarantee.
Let Annie know you want this for your book promotion:
Simply fill out the book promotion form using this link so that Annie can contact you to talk about the best way to get you started with a powerful outreach across America. Don't miss your chance to share your message nationwide. Annie has made it super easy to reach the masses with our Author Advantage program.
Tell Annie of your PR interest here: https://www.anniejenningspr.com/expert-signup-author-advantage.html
What is the Author Advantage book promotion program?
It's a low cost yet big return radio talk show campaign designed just for you. You get top radio show booking in the major cities across America with lots of free perks offered, including message development, unlimited media training, hands on support of our professional PR team for your entire campaign, prestigious media appearances that add value, power and influence to your social reputation, website and media bio. It's a nice offer.
You can get the same book promotion campaign the big guys buy in bulk
That's right. The Author Advantage publicity program is the radio campaign many publishers and organizations buy with us many times over, year after year as they like the results. They like the unlimited media training, the performance guarantee, the bookings on the big shows in the big markets and most of all, they love having happy authors that rave about working with their publishing firm.
Author Advantage book promotion program perks include:
Unlimited media training with an award-winning former news producer & booker with 25 years' experience
Professional publicists with an established booking history from 10 – 20 years' experience
News director on staff to create socially relevant conversations for you
Radio is a friendly venue for authors in that they allow them to promote their book in the interview. Our media trainer works with you so you can develop the skill to be a great on-air guest. You will know the answer to the question, "tell our listeners how they find about more about your book?"
Confidence on the air is a result of knowing your topic well and our unlimited media training builds confidence!
Being a guest on a radio show is like walking into a room with tens of thousands of people waiting to hear you speak. Nice, right?
And of course, no bookings on small shows, no internet shows, no shows in the middle of nowhere, no shows in the middle of the night, no bookings on the outskirts of a big market and no low-listenership shows.
Think of Annie Jennings PR and her book promotion team as your PR mentors
Everyone you work with at the highly acclaimed Annie Jennings PR Â firm has from ten to fifteen to twenty years of experience in the publicity industry. Our team are true professionals that know what does not work, and certainly knows what does work. We know what authors want in their book marketing and we deliver. We love to see your mission and dreams in motion with you out in the world living your message  – LIVE and on the air.
This presentation is brought to you by Annie Jennings PR, the innovative National publicity Firm that is famous for creating powerful top market radio, TV, print and online media campaigns, all with guaranteed deliverables.
Learn more about Annie Jennings at www.AnnieJenningsPR.com