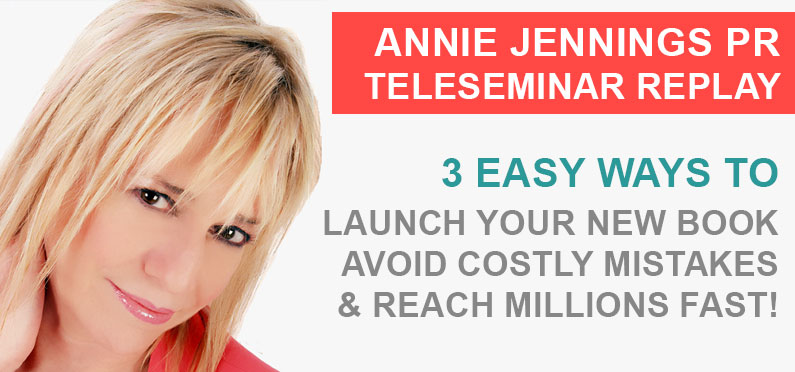 Listen Here:
Must know publicity strategy! Looking for a fast track way to launch your new book?
Join the top national PR firm, Annie Jennings PR, in an action-packed presentation on how to promote your new book using one of the most powerful and accessible new book launch strategies available.
Avoid costly publicity mistakes in your book marketing
Why wait? If it's your book's publication date, you can be out in the world promoting your book. But it's important to avoid the "going nowhere, nothing happened" book launch mistakes that cost you time, money and opportunity.
Book launch publicity
In a quick 30 minutes discover the publicity strategies to help launch your book nationwide and reach millions of people practically overnight.
What are the 3 most powerful publicity strategies to launch your new book?
What approaches to book promotion are to be avoided without question?
How can you get the most action, attention and buzz on your book from day 1?
How can you achieve instant clout and credibility using PR?
Can you get publicity even if you don't have impressive degrees?
How do you reach hundreds of radio talk shows in one fell swoop?
How do you avoid fake PR? Throwing your money down the drain?
This presentation is brought to you by Annie Jennings PR, the innovative National Publicity Firm that is famous for creating powerful top market radio, TV, print and online media campaigns, all with guaranteed deliverables.
Learn more about Annie Jennings at www.AnnieJenningsPR.com