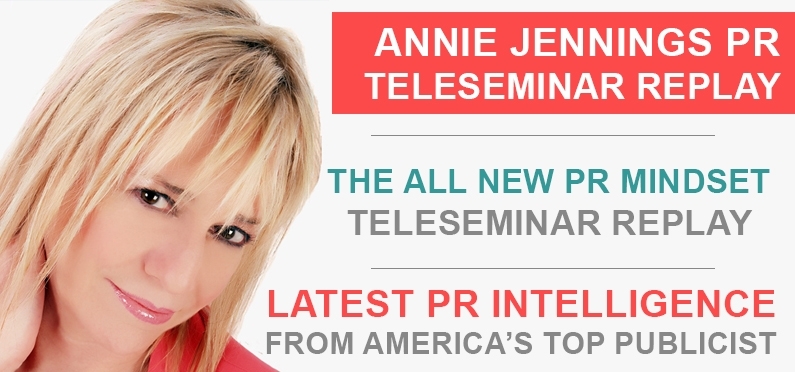 Listen Here:
Listen to this one of a kind presentation from one of the most respected publicists in the industry. Annie is well known for introducing and implementing the most powerful media strategies used by millions of authors, speakers and experts today.
The All New PR Mindset: 3 New Ways To Succeed With Publicity
Now, you can hear what's next in publicity. Discover how to think about your entire PR strategy as it makes sense to your overall business growth strategy and personal goals.
Listen to America's Top Publicist for an advanced, next level discussion on the latest thinking in the PR industry that can benefit you:
What one piece of advice is precious?
Why must you know the answer to this one question?
When do you know when it's your personal GO TIME?
How can you avoid throwing your money away?
How can every penny you spend turn into an investment in yourself?
Red flags that what you are about to do is wrong
How do the big successful professionals use publicity to get to the top?
Think of Annie Jennings as your PR mentors. Everyone you work with at the firm has 10, 15, 20 and even more years of industry experience. We love to see your mission and dreams in motion.
This presentation is brought to you by Annie Jennings PR, the innovative National Publicity Firm that is famous for creating powerful top market radio, TV, print and online media campaigns, all with guaranteed deliverables.
Learn more about Annie Jennings at www.AnnieJenningsPR.com