Listen Here: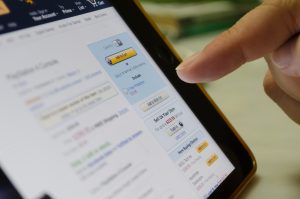 Justin Croxton is the founder of Que Commerce and an Amazon & Google Search Expert who helps businesses increase their online rankings as well as revenues. Justin will share with us how he assists clients in optimizing Amazon for best results.
Optimize Your Amazon Listing For Sales
Why is your approach to building a well optimized Amazon listing unique? What's your philosophy?
What can people expect for results? How does your work impact Amazon rankings?
Do you have any guarantees in your work?
Who is most likely to hire you? What types of business?
What's one key to an optimized Amazon listing?
To learn more about Justin Croxton, please visit www.que-commerce.com.
This podcast is brought to you by Annie Jennings, of the national publicity firm, Annie Jennings PR. EliteWire is a showcase of experts who work in a variety of areas in the publishing industry as well as the lifestyle industry. Although Annie specializes in working with authors, experts and speakers booking major media that includes radio talk shows, TV shows, national online print, magazines and newspapers, she invites others who service the publishing industry to showcase their business and expertise on the Showcase of Experts.