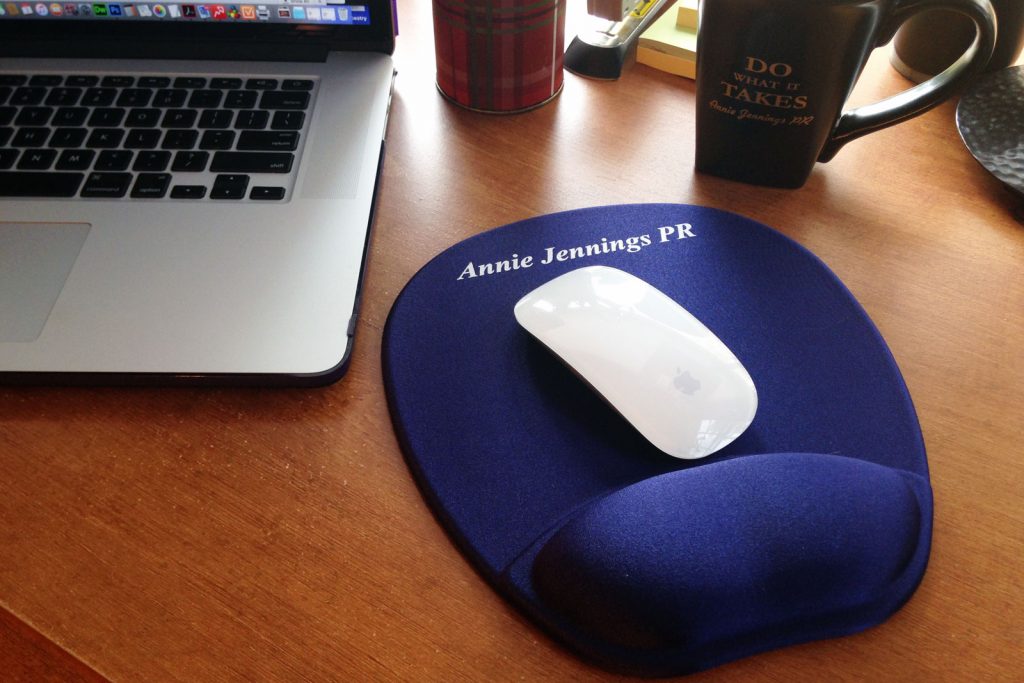 #1 Publicist Says Success Is All About The Mousepad
But really. It's COMFY. It's essential for working with high energy and creativity on your computer. Personally, I have 4 of these mousepads on my desk (because it takes 4 computers just to keep up with the way I work :)) and I love the way they gently support my wrist. I move from computer to computer, mega-accomplishing and the whole time my wrist is feeling fabulous.
Annie offers the same mousepad she uses just for telling her about your book – FREE!
Want one?
Free?
You can get one just by telling Annie all about your new book using the form below.
National publicist admits to working hours at a time to perfect the best pitches
"As a top national publicist with clients depending on me for high-quality and meaningful media placements that help them share their messages and build their companies, I have to put in the time. Hey, these amazing pitches that result in major media placements for my clients don't create themselves," says publicity expert, Annie Jennings of the NYC area publicity firm, Annie Jennings PR.
"I could work for hours and hours at a time . . . and I do."
"Because that's what it takes to keep up with everything you have to do to be successful!" Annie says.
Get your own mousepad!
Use this link below to give us the info we need to send you your mousepad. Tell us about your new book by filling out the form and soon your wrist will be resting on a nice comfy mousepad while you put in the time creating new ideas on your computer to support your book, your life and business success.
Don't miss your chance to get one of "Annie's Secrets" to her success – for free!
Annie Jennings is a top major publicist whose mission and passion is to get her clients the most powerful media placements that serve their message, goals and business model. Annie's PR firm provides the #1 radio talk show campaign with bookings on big shows in major cities, TV show bookings, online media and print media. Radio campaigns come with unlimited media training and performance guarantee our clients love! TV, print and online media are offered under our pay for performance publicity model.
Tell Us About Your Book; Get Your Mousepad