Listen Here: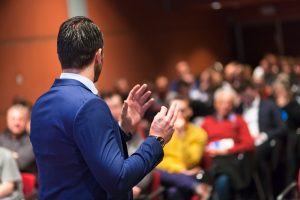 Bryan Caplovitz is the founder and creator of SpeakerMatch.com. He provides tools and services, marketing, consulting services, and business building advice for emerging and professional speakers, authors, trainers, coaches, and other subject-matter experts.
Build Credibility as a Professional Speaker
What does it mean to be a "professional" speaker?
Does a speaker need a demo video and website?
What makes a great, in-demand speaker?
What's the most common mistake new speakers make when getting started?
How can someone get started as a speaker?
For more information about SpeakerMatch and getting started as a speaker, visit www.speakermatch.com/special
This podcast is brought to you by Annie Jennings, of the national publicity firm, Annie Jennings PR and creator of the EliteWire online magazine. EliteWire is designed to create a community of the publishing industry pros where they can talk about who they are, what services they provide and who is their ideal client. EliteWire is your chance to get up close and personal to learn more about the service providers who can help you achieve your goals.