Listen Here: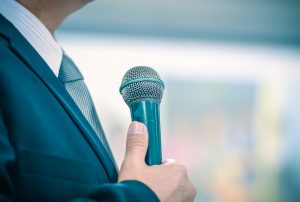 Professional speaker and speaking coach Mark Grimm is the author of Everyone Can Be A Dynamic Speaker: Yes, I Mean You. Mark has the straightforward keys to finding presenters that will deliver value to improve your lives or work, so you won't ever again be stuck in boring training sessions or dinners with endless speeches that put you to sleep.
How to Find & Be A Dynamic Speaker
Tell us how you became a speaking coach and a little about the services you provide.
What is unique about what you do?
What end results do clients experience when working with you?
Who is you ideal coaching client? Who needs your help finding speakers?
Do you have a success secret?
Find out more about Mark Grimm's services, view tape of him in action and read some amazing testimonials at www.markgrimm.com
His book, Everyone Can Be A Dynamic Speaker: Yes, I Mean You! is available only at his website. You can also find Grimm Academy at markgrimm.com —- free videos that help meet some important challenge you face.
This podcast is brought to you by Annie Jennings, of the national publicity firm, Annie Jennings PR and creator of the EliteWire online magazine. Learn more about Annie Jennings at www.AnnieJenningsPR.com