Listen Here: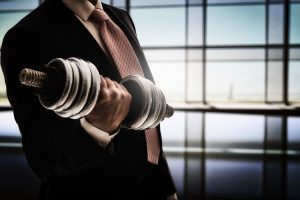 Fred Hahn is a Certified Personal Trainer and owner of SlowBurn Personal Training Studios in Manhattan and Montclair NJ. For nearly two decades, Fred and his team of SlowBurn trainers have instructed some of the world's most prominent business professionals and celebrities, building powerful people with strength for the real world.
Build Strength For Success In The Real World
Tell us a little about the SlowBurn personal training studios and the services you provide.
Why is this approach to strength training unique? What are the benefits?
How does your work help people build strength to be successful?
Do you work with all fitness levels?
What advice would you give people just starting to power up through strength training?
Fred Hahn and SlowBurn personal training studios has been helping people just like you become leaner, stronger and healthier for nearly 20 years. SlowBurn truly is the safest and most time efficient way to exercise to become younger, healthier and powerful. It gives you strength for the real world.
Fred is offering a complimentary session to all listeners who live in the NYC, NJ area as well as a special Thanksgiving promotion. Call 212-579-9320 for our NYC location or 973-233-1013 for our Montclair NJ location. Email is: info@seriousstrength.com or infomontclair@seriousstrength.com.
You can learn more at www.slowburnpersonaltraining.com
This podcast is brought to you by Annie Jennings, of the national publicity firm, Annie Jennings PR and creator of the EliteWire online magazine. EliteWire is designed to create a community of the publishing industry pros where they can talk about who they are, what services they provide and who is their ideal client. EliteWire is your chance to get up close and personal to learn more about the service providers who can help you achieve your goals.