Listen Here: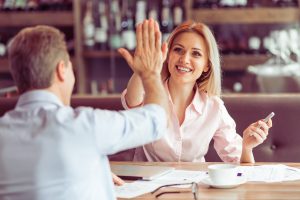 Natalie Manor is an author, keynote speaker for national conferences and associations and content developer. Natalie helps clients gain confidence and develop stress free strategies for success. She talks with us about how she coaches women to improve performance in all areas of life.
Developing Confident Communication
Tell us about how you work with clients to develop confidence.
What do you do that is different from other coaches?
How do help clients with improved performance in all areas of life?
What type of person needs your help? Who is your ideal client?
What is one tip you share with all of your clients and audiences?
For more information about Natalie Manor please visit www.NatalieManor.com, where you can learn about her CONFIDENCE ebook series for women, discussing leadership, communication and behavioral performance producing success. The first of the 10 in the series, Confidence Business Communication Etiquette, is available at Amazon.com.
This presentation is brought to you by Annie Jennings PR, the innovative National Publicity Firm that is famous for creating powerful top market radio, TV, print and online media campaigns, all with guaranteed deliverables. Learn more about Annie Jennings at www.AnnieJenningsPR.com