In this podcast, we feature Dr. Chris Paras – an academic physician in NY who has extensively studied ancient history and mythology. He was always fascinated with origins of great civilizations and their myths, and this is the foundation of his historical fantasy series, The Chronicles of Atlantis.
Listen Here: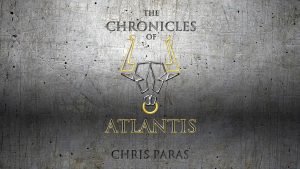 The Chronicles of Atlantis
Tell us a little about yourself and how you came to write this book series.
What other fantasy series does yours compare to?
What makes The Chronicles of Atlantis stand out?
What are some of the story lines you are most excited about?
Who would enjoy these books?
To learn more about Dr. Chris Paras and his book series, please visit www.chroniclesofatlantis.com. All books of the series are available on amazon, Barnes & Noble, booklocker and all major outlets. You can also connect with Chris on twitter @ChrisParas_BK.
This podcast is brought to you by Annie Jennings, of the national publicity firm, Annie Jennings PR and creator of the EliteWire online magazine. Learn more about Annie Jennings at www.AnnieJenningsPR.com