Ken Mahoney
Ken Mahoney discusses his new level of credibility and influence from getting booked on major media outlets.
Jason Greer
Jason Greer discusses how he bacame the "Go To" Diversity Expert for WTOP Radio in Washington, DC.
Will Aguila, M.D., F.A.C.S.
Dr. Will Aguila shares the story of why he chose Annie Jennings PR & the inside scoop on his amazingly fast rise to success.
Col. Cedric Leighton, M.S.
Col. Cedric Leighton story of working with the Annie Jennings PR firm for his media and publicity outreach.
Ryan Gilliam
Ryan Gilliam tells how since he has been working with Annie Jennings PR, his phone is constantly ringing off the hook with new client opportunity.
Peter Sacco, PhD
Dr. Peter Sacco discusses how he found working with Annie to be absolutely phenomenal.
Richard Shane, PhD, Founder, Sleep Easily, LLC
Dr. Richard Shane tells how, after interviewing numerous PR firms, he and his management team choose to work with Annie Jennings PR.
Lauren Bloom, Attorney, Author
Lauren Bloom shares why every penny she spent with Annie has been worth it.
Melissa G. Wilson, Publisher
Melissa G. Wilson tells why she refers all her authors to Annie.
Peter Edelstein, M.D., F.A.C.S., F.A.S.C.R.S.
Dr. Peter Edelstein shares how he was hooked on Annie from the beginning.
Katherine Agronovich
Katherine Agronovich says, "The main reason I decided to work with Annie was that I trusted her and believed that she believed in me."
Vladimire Calixte
Vladimire Calixte shares her experience with Annie Jennings PR and explains why everyone must go with Annie Jennings.
Andrea Sittig Rolf
Andrea Landed 3 BIG NAME MEDIA placements in just one month for a FRACTION of what she paid/lost inretainers.
Lauran Star
Lauran Star discusses how the website Annie's team designed for her has advanced her business to where she should have been years ago.
Renee Meloche
Renee Meloche shares her book promotion and self promotion success with Annie Jennings PR.
Anne Deidre
Anne Deidre discusses why she instantly knew she wanted to work with Annie Jennings PR.
Cecil C. Kuhne
Author and Attorney, Cecil Kuhne says he wishes he used Annie for his 30 other books too. Listen to his radio talk show campaign success story.
Bob Allison
Bob Allison discusses how his credibility and brand is strengthened because of Annie Jennings PR.
Jim Alampi
Jim Alampi discusses how he received lots of high powered, influential PR opportunities with Annie Jennings PR.
Brian Fielkow
Brian Fielkow tells about his experience with Annie's #1 radio campaign.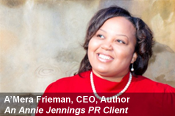 A'Mera Frieman
A'Mera Frieman discusses how Annie's #1 Radio Campaign created HUGE new success for her!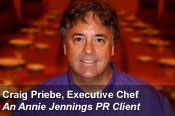 Craig Priebe
Craig Priebe shares how Annie Jennings PR made his PR dreams come true!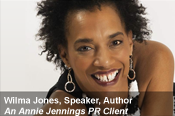 Wilma Jones
Wilma Jones shares her thrilling experience working with Annie Jennings PR.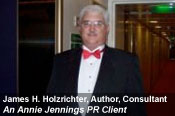 James Holzrichter
James Holzrichter reveals blockbuster moneymaking book promotion strategies.
Zelda Hayes
While working with Annie, Zelda says her book sales took off, her Instagram and Facebook followers increased tremendously and lot of new qualified clients signed up with her.
J.P. Hansen
J.P. Hansen tells how Annie Jennings PR TOOK HIM TO THE TOP!
Cristina Guarneri, PhD
Cristina Guarner says taht Annie's vast publicity knowledge will bring you new levels of respect for your yourself.
Angelique Cooper McGlotten
Angelique McGlotten says Annie's excellent PR team helped her get booked on the biggest shows in the most influential cities to help her launch her book that became and Amazon bestseller.
Frederick Birkett
Learn how Frederick leveraged His Radio Publicity into HUGE new opportunities!
Todd Thomas
Learn how Todd Thomas created the ultimate COMPETITIVE ADVANTAGE!
James Erlich, M.D.
Dr. James Erlich discusses what it's like to do TOP RADIO!
Penny Pearlman
Penny Pearlman shares publicity secrets learned along her radio & TV media experience.
Bill Roth
Find out how Bill Roth went on to become one of his industry's prestigious thought leaders and is living his dream.
Lauren Bloom
Find out how Lauren Bloom got booked FAST on FOX NEWS, The TODAY Show & more!
Lynn Parker
Lynn Parker shares how the famous Annie Jennings PR Radio Campaign changed her life!
Joseph Leonard
Jospeh Leonard tells how he shot straight to the top & TRIPLED HIS SPEAKING FEES!
Ornella Grosz
Ornella Grosz, tells EVERYTHING about working with Annie – You won't believe what she has to say!
Julia Valentine
Julia Valentine shares her tips for BIG SUCCESS using a radio campaign!
Peggy Hall
Peggy Hall discusses how she got her own NATIONAL TV SHOW host segment.
Ryan Prucker
Ryan Prucker reveals his strategy on how he leveraged media appearances to create his HUGE competitive edge.
Kevin Huhn
Find out what happened after Kevin Huhn said NO to his media opportunity. Hint: He wants you to learn from his mistake.
Noble Drakin
Noble Drakin describes what it's like to work with Annie Jennings PR.
Anthony Migyanka
Tell All interview with Anthony Migyanka on how he got his own NATIONAL SHOW after appearing on TV.
Reecy Aresty
Reecy Aresty turns Annie's Radio Campaign into over $100,000 in new business! Listen to his story!
Stephanie Vance
Stephanie Vance discusses how she got her own REGULAR EXPERT SPOT on her BIG CITY local TV station.
Vince Crew
Vince Crew tells his story of working with Annie's Ladder Strategy . Find out how he leveraged PR into more gigs & big fees!
Stephany Greene
Stephany Greene tells what it's like to work with Annie Jennings PR.