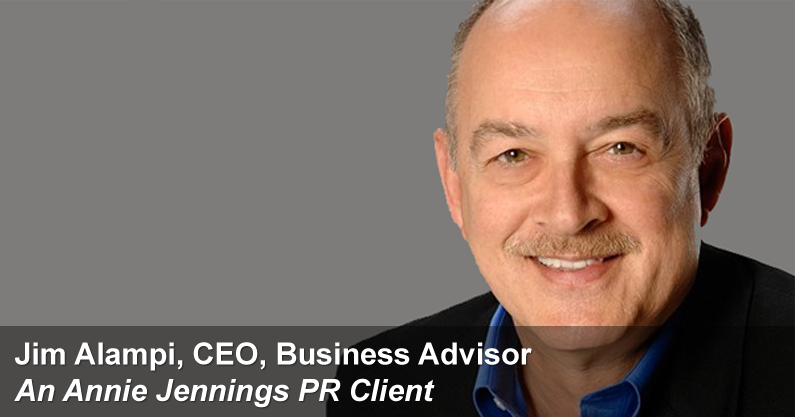 Publicity Success Story
Business CEO, Jim Alampi, Tells: In this podcast, Jim Alampi tells his  real story of publicity success that gives listeners an inside look into what it's like to work with top media placement firm, Annie Jennings PR and achieve an exceptional return on his investment.
Did Jim get lots of high powered, influential PR opportunities? Yes, he did! And he tells how. Don't miss the insider scoop of how PR should work for you if your goal is increased exposure to your target markets as a source of new opportunities and new business.
Listen Here
Real Publicity Story! How Annie Jennings PR Impressed Business CEO, Jim Alampi
Fortune 500 Management Advisor, Global Executive & CEO, Jim Alampi, shares his story of success in working with Annie Jennings PR.  Jim is the author of Great to Excellent; It's the Execution!.  He has been featured on Fox News, CBS News, BusinessInsider.com, AMA, Fast Company and as a columnist for Entrepreneur Magazine and more.
Jim reveals his successful publicity strategy and lots more in this "not to miss" podcast. Jim says:
My ROI was spectacular.
I have never written a book before. I had no idea on how to promote it. Annie Jennings made that happen quickly for me.
Annie Jennings PR totally exceeded my expectations.
After speaking to Annie, the only question I had was how fast can we get started?
Jim, in the sea of PR firms what made you choose Annie Jennings PR?
Once I got my book published the publisher offered to do come PR for the book, but I wasn't very satisfied, so the publisher recommended Annie Jennings PR.  After talking to Annie for about an hour on the phone it became clear to me that they were a professional firm that knew what they were doing, had the right contacts, could open doors and get placements where they would serve me the best. So it was a referral first of all and the great conversation with Annie.
Did you expect to spend an hour on the phone with Annie?
Annie and I seem to hit it off more quickly than the time it usually takes to really feel comfortable with someone in the PR business. I don't know how she did it but she did. The Pay As You Go strategy really made sense to me. It hit on all cylinders. It wasn't a question on whether to go ahead but how quickly can we go ahead..
What did you think about Guaranteed Deliverables and the Pay As You Go pricing strategy? How was it different from other PR firms?
It was much different and more logical. This is new territory for me as I have never written a book before. I had no idea on how to promote it. Annie Jennings made that happen quickly for me.
On a day to day basis what is it like working with the team at Annie Jennings?
Since I have a crazy schedule and traveling every week to work with clients or speaking engagements I knew it would be challenging, and I told them up front I wanted to be pushed. When you push me too hard I will let you know, but it never got to that point. They were constantly throwing things at me that were new opportunities. That's the way I like to work. I like to be pushed.
Did you feel like you were growing in the Ladder Strategy? How did you leverage the placements once you got them?
It got me in places that were prime for my audience. I got a live interview on Fox News, which is pretty spectacular, considering I'm a business guy who works with CEO's.  The media placements really helped me climb the ladder. I became a columnist at Entrepreneur Magazine, which was a pinnacle in my career. What was interesting is, as we went up the Radio to TV ladder we decided it would be more beneficial for me to focus on print media. They then shifted me into full blast print and online media programs. I couldn't have asked for a different or better approach.
Any final comments about working with National Publicity Firm,  Annie Jennings PR?
Working with Annie Jennings PR exceeded my expectations. You need to look at getting PR not as an expense but as an investment upon which there ought to be a return. I can tell you my experience has been spectacular. I wouldn't have changed anything!
What was the absolute brass ring of the entire PR & book promotion experience?
Lots of visitors to my website. This led to lots of new opportunities for me and my firm.
To learn more about Jim Alampi, his books and services, please visit  www.theexecutionmaximizer.com.
This podcast is presented by Annie Jennings, of the National Publicity Firm, Annie Jennings PR and the creator of JenningsWire online magazine. For more information on how you too can experience book promotion and media publicity success, please visit Annie Jennings PR here.
Get book promotion, publicity and author marketing today!
Annie Jennings PR provides book promotion, publicity and author marketing services offering the #1 most powerful radio talk show campaign that includes a guarantee of performance and unlimited author media training.  TV bookings, online and print media placements are offered under her highly-acclaimed pay for performance pricing model.
Please let Annie know of your interest in publicity and/or book promotion by using this form. You are also welcome to call the office. You will be speaking with Annie soon!
Keep in mind that author marketing and book promotion can work perfectly in your business growth success model. Your book is a showcase of your knowledge, experience, wisdom and credentials and can help you attract and land lots of new clients.  Getting publicity that allows you to mention your book but also adds power and influence to your bio is a top strategy that Annie's firm uses to optimize her clients best chances of mega success. Be sure to connect with Annie Jennings PR today!  Get your book promotion, publicity and author marketing here.
Are you an Annie Jennings PR client yet?
Why is this post getting so much attention? It's because businesses have been searching for how to make their PR investment pay off BIG TIME. National publicist, Annie Jennings PR, figured it out a while ago, and her clients are reaping the rewards and getting hired by the creme de la creme, landing significant speaking and consulting opportunities and being deliberately sought out by the major firms as consultants. Annie specializes in business and career building media exposure. And it's all PAY FOR PLAY and guaranteed performance deliverables. Perfect!
Listen Here:
Real Publicity Story! How Annie Jennings PR Impressed Business CEO, Jim Alampi