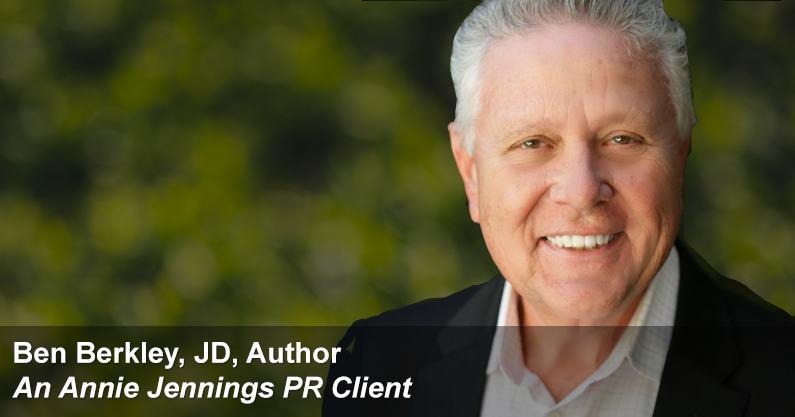 Welcome to the Annie Jennings PR Real Stories of Success Podcast Series.
Annie Jennings is the creator of the famous performance publicity campaign for bookings on TV shows, in print media and in prestigious online media outlets.  Annie also offers the top radio talk show campaign in the country which includes bookings on high impact radio shows in top markets as well as unlimited media training and guaranteed deliverables.
Joining us today is Attorney & Speaker, Ben Berkley JD, author of In The Defense Of Guilt, a legal thriller about survival, self-discovery and justice prevailing – Ben was heard on more than 250 stations across the country during his 10 show radio campaign with us, reaching big media brands such as SiriusXM Radio and iHeart Media – many of his interviews were with top 50,000 watt stations and in major market cities including Chicago, San Francisco, Houston, Denver, Minneapolis and San Diego, not to mention coast to coast coverage with several national shows.
Listen Here
Real PR Story: "I am 100% convinced that Annie Jennings is the way to go."
How did you find out about publicity with Annie Jennings PR? What did you initially like about us?
I did my due diligence like everyone else, I started with a Google search and found Annie's name over and over. It was like peeling back the layers of an onion. Everything that I read, I loved.
The best thing about working with your company is that you guarantee what you promise. From day one I was told what I can expect and I was never disappointed.
Did you feel Annie understood your publicity goals?
After 30 seconds I knew right away I was speaking to the right person. She knew my goals before I could even express them. She set out an outline that left me with the feeling I am speaking with a person who has the experience and confidence to take me where I want to be.
Tell us about your free publicity media training to get you ready for your radio interviews.
Jason (Annie's media trainer) is very experienced. I have somewhat of a media background. I have done radio interviews and some television. Jason explained the process. He and Stacy (Annie's Radio Director) did a very good job of providing the bullet points for the show and the topics we were going to discuss. It was a really good and positive experience.
What would you say to someone thinking of working with #AnnieJenningsPR for publicity?
If you want a professional, you want Annie. There are a lot of people who can promise PR but if you want someone who has done it, can promise and will make sure that the job is done, I am 100% convinced that Annie Jennings PR is the way to go.
There are a lot of people who can make promises – not everyone can fulfill those promises. That is the question you have to ask yourself – do you want to spend money to just spend it or spend money to actually get results?
Connect with Ben Berkley at www.BenBerkley.com to learn more about his books and speaking services.

Annie Jennings of the National PR Firm, Annie Jennings PR, is a highly respected and accomplished National Publicist who creates meaningful and valuable publicity strategies that help her clients be heard in the world. Annie Jennings PR is America's hottest PR company. Annie Jennings PR stands for authors. It is our firm's goal for every author to be heard and get their chance at the brass ring.
Authors and experts say Annie Jennings PR has helped them share their messages, helping people all over the world, assisting them to live their dreams of being a successful author. Annie helps her clients create their highest level of achievement in the media.
Annie Jennings PR has produced thousands of successful media campaigns. Annie offers her famous #1 radio talk show interview campaign that includes unlimited media training, a performance guarantee and bookings on the major, high-impact, high-listenership radio shows that include the nationally syndicated networks that help share your message coast to coast. Performance publicity programs are offered for TV bookings, prestigious print and influential online media placements.
Annie Jennings has presented for The Harvard Club, NYU's Publishing Program, the American Society Of Journalists & Authors, and more. She is a sought after PR expert featured in Inc. Magazine, Entrepreneur Magazine, US Weekly, TheStreet.com, AOL.com and Yahoo.com.