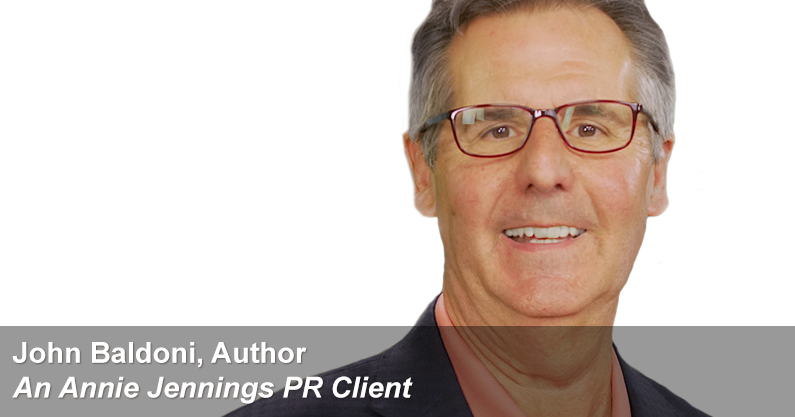 Welcome to the Annie Jennings PR Real Stories of Publicity Success Podcast Series. Annie Jennings is the creator of the famous performance publicity campaign for media bookings on TV shows, in print media and in prestigious online media outlets with brand names.
Annie also offers the top radio talk show publicity campaign in the country which includes radio bookings on high impact, high listenership radio talk shows in major cities and in top markets. Also included is unlimited media training. The unlimited media training is with an award-winning former news producer and booker. Annie also offers a guaranteed deliverable with the high performance radio campaign. It's in the Contract!
Annie says, "hey, if I can't fulfill the radio talk show publicity campaign with all of the promised deliverables I will NOT keep your money. I earn my money with guaranteed deliverables."
Clients love that Annie stands up for them in the industry and she has conducted over 500 speaking events encouraging everyone in PR and working with authors and experts to do an outstanding job for them.
"Client come first," says national publicity pro, Annie Jennings.
In this publicity podcast, we share another real author story of their publicity and campaign success to give our listeners an inside look into what it's like to work with Annie Jennings PR.
Listen Here
Real Publicity Story: Author John Baldoni Says Annie Is Very Professional
You can listen to more real stories in our REAL PUBLICITY STORIES (link to all the stories here)
Award-winning Executive Coach & Leadership Educator, John Baldoni, who was named a Top 100 Speaker and Top 50 Leadership Expert by Inc.com. He is author of GRACE: A Leader's Guide to a Better Us.
During John's radio campaign with us, he was heard on big media brands across the country including ABC News Radio, Wharton Business Radio, iHeart Media, SiriusXM and FOX News Radio, reaching over 1,250 stations! That includes top markets such as Boston, Philadelphia, Houston, Atlanta, Denver, Miami, Seattle, Sacramento, Las Vegas, Cincinnati and more.
John Baldoni says this of working with Annie Jennings PR: "Annie Jennings PR is a true professional. Annie listened to what my objective was and created a campaign for me. Her radio publicity team found good news pegs for my story. I appreciated the Annie Jennings PR level of professionalism.
Very responsible. I appreciated that aspect especially. Getting the word out on my book is very important to me. I believe firmly in the mission of public relations which is creating awareness to what it is that we do. It is up to the author to carry their message. PR professionals open the doors for us and enable us to shine as much as we can.
There were less time constraints and there was more time for open discussion. In this show, I could go into more detail about my book which is good.
My advice to authors regarding their publicity is to be specific on what you want to achieve and tailor your message to the shows.
Note from Annie "keep in mind that each radio show has a profile of the type of guest and topic they like to have on the show. This is called the show profile. Logically, to serve their listeners best, the guest has to match the profile of the show." It's our job to know the show's profile and create you segment idea to match the show and offer you media training on the topic. Of course, all topics and conversations must be authentic to your voice, mission and passion.
John continues, "You are not right for all shows so be specific about where you want to go".
Learn more about John Baldoni and his new book, GRACE: A Leader's Guide to a Better Us, by visiting GraceTheBook.com
This podcast is presented by Annie Jennings, of the National Publicity Firm, Annie Jennings PR. For more information on how you too can experience National Media success and guaranteed deliverables, please visit www.anniejenningspr.com

About the national publicity firm, Annie Jennings PR for authors, expert and those wishing to have a media presence.
Annie Jennings is a respected publicity expert who has worked with thousands of clients securing media placements that are meaningful and valuable to them and their goals.
Annie Jennings PR has created publicity strategies that help clients be heard in the world and to build up powerful and influential media bios.
GET BOOKED ON TOP RADIO PUBLICITY FOR PROMOTION, MARKETING AND PUBLICITY.
Annie offers her famous #1 radio talk show interview campaign that comes with free unlimited media training, a performance guarantee and bookings on the major, high-listenership radio shows (in the Top Markets ONLY) that can include the nationally syndicated networks that help share your message coast to coast.
WANT PERFORMANCE PR & PUBLICITY FOR ONLINE  MEDIA & TV SHOW APPEARANCES?
Performance publicity PR programs are offered for TV show bookings, prestigious print and influential online media placements. Why pay expensive monthly retainers with performance publicity programs and help you reach your goals with the monthly retainer? "Manage your publicity money wisely", says Annie Jennings. Our author, experts and publicity clients LOVE that we put our money where our mouth is and guarantee our media campaigns with a performance guarantee in the Contract. "Outstanding!" They say!
PUBLICITY BASKET OF MEDIA PLACEMENTS – NEW!
Annie has created a new concept in PR, The Publicity Basket. Created to provide tremendous value to the client, be sure to ask Annie how the Publicity Basket can help you invest your assets more wisely to secure your return on investment.