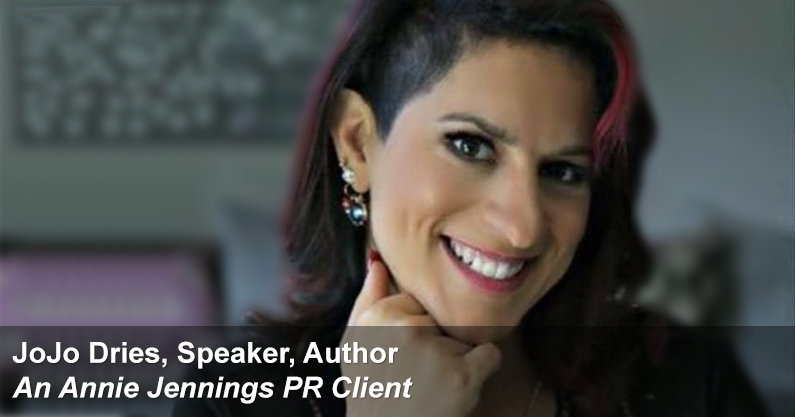 Publicity Stories From Real Authors!
Welcome to the Annie Jennings PR Real Stories of Success Podcast Series. Annie Jennings is the creator of the most powerful radio talk show campaign in the country where you are booked on high-impact radio talk shows in top markets. Annie Jennings PR offers local, regional and national TV, print and online media performance program.  The famous Annie Jennings PR radio campaign also offers UNLIMITED media training from an on-staff former news producer with over 25 years of respected experience in the radio industry. His work will help create you into a polished, prepared and confident professional media guest.
Get publicity with a top PR firm specializing in booking authors, experts and speakers on the big shows in major cities.
Our publicity podcast featured guest is JoJo Dries, Workplace Speaker & Author of The Lotus: How I Beat the Patriarchy. Through Annie Jennings PR's 8 radio interview campaign, she was heard on 30 stations across the country, including top shows in Boston, San Francisco, San Diego, Detroit, Sacramento, Cincinnati and on big media brands such as iHeart Media.
Publicity Real Story: "With Annie, There's No High-Pressure Sales Pitch, Just Guarantees!"
JoJo, how did you choose the Annie Jennings PR firm as your publicist?
I come from a PR background as I had a PR firm years ago, so when I was looking for a PR firm to represent myself, my brand, this book and the message I really wanted to get out to the country, it was a very hard decision for me. I didn't know if anyone was ever going to be good enough to match the goals and objectives I had set for myself.
I had a very high standard of what I wanted the campaign to look like, who I wanted to reach and the message and branding I wanted to get across.
I researched for the best publicity firm for me. I found the Annie Jennings PR firm.
So I started my research for the right PR firm for me but I did not choose a PR company.  I still uncomfortable as I had not yet found Annie.
But ONE DAY I came across the Annie Jennings PR website and was completely blown away by the performance guarantee. I was impressed by two things. The first was the website – the high quality. Annie's clients are high-powered and I was impressed by the professionalism of her clients and the website itself was professional. I also found that Annie's message to her clients was very genuine. I was blown away by Annie's authenticity as well.
And on top of all that, Annie guarantees her publicity contracts. Wow!
The guarantee of me getting 8 top radio shows in the top markets was exactly right for me.  The more I researched, the more I saw the reviews of Annie's services, the more I realized Annie Jennings PR was going to stand behind their word.
At that point, choosing Annie Jennings PR for my publicity was easy!
That is how I chose you. It was a very easy decision. What had started as a very difficult decision for me became a very easy one.
. . . And it just kept getting better and better!
And then when I sent the email inquiring, I heard back from Annie herself and her right hand associate. The communication right from the get go was over and above what I would expect from a large PR firm that has that a performance guarantee and has the media connections you have.
To top it off, the communication from there with the whole team was excellent . . .  I was completely blown away from the get go yet gain. Annie over-delivered on her promises in spades!
In your first call with Annie did you feel she understood your publicity goals?
Here genuineness came through very quickly. First, the fast email response then the phone call the same day. She had never met me before and I chose to speak with your firm sight unseen. I think what struck me the most in that first conversation was that she was able to communicate my message back to me. This immediately told me that she was a professional that could get my message across.
That's what she did. There are a lot of flashy PR firms out there that want to send you a lot of graphs and charts and this and that, but Annie was not flashy. She was very matter of fact, this is what we are going to do, this is how we are going to do it, we have the connections.
She exuded confidence.
She handled it all LIKE A BOSS.
I have such high respect for that. I have been in business long enough to see the shady ones, to see through the ones that say they are going to do all these things for you. And in the end you spend a ton of money and get nothing back for it.
For me, there was this guaranteed fee that I was going to spend and there was a guaranteed number of interviews I was going to get back from it.
And there was also a guarantee that if I did not get my interviews, Annie was willing to give me my money back. Annie was willing to stand behind her guarantee.
How did your publicity media training work out for you?
Coming from the PR background. I thought "Oh, I know what I am doing. I can speak to the media, but I will take the unlimited media training because it comes with the package." But then Jason, Annie's professional media trainer, blew me away.
Plus, Annie Jennings PR over-delivered on the actual radio shows.
First of all I did not have to tell you what my message was – you were sending me emails about the hot news that's happening right now asking me if I can speak on these issues based on my messaging.
You started lining up interviews. We hit the ground running.
Then there were follow up interviews on those interviews and this gave me more bang for my buck.
Overall how was your day-to-day experience in your publicity outreach with Annie?
I think that when you are looking at a business or looking at someone you are going to use as a partner on your team you want that to be seamless. You want that to flow with your team that's already in place.
That is how I felt. It was a very seamless process. You integrated with me and my schedule and the way I was able to communicate – with my busyness and going here, there and everywhere
If you needed me I was available and if I needed you, you were immediately available. And this also blew me away. When you are talking about a PR vision and a PR team, generally there are these time blocks when you can reach them only a certain time. For me, as a business owner and it being so personal as this was me representing my personal brand, I needed to feel that my PR person was with me every step of the way. And yes, whether I needed Stacy, or Jason or Annie – you guys were always there – and that also blew me away. In this day and age when you are trying to work with somebody it is like pulling teeth sometimes with communication and for me communication is of utmost importance.
What would you say to someone who is thinking about working with Annie Jennings PR for their publicity?
My network is constantly blowing up, whether it is Facebook or Instagram or Linkedin. The campaign has definitely paid me back as far as the reputation I needed to have as an established author and that was great.
I have already sent a couple of people your way. I would say to people that are doing their research, I've sat in your seat and having had success for my own PR clients, Annie is the real deal. This is not some joke out there. They are going to get you those interviews.
Annie Jennings is going to have an impact on your bottom line.
If you are looking for a legitimate PR campaign that is going to give you above and beyond the goals and objectives that you are going to set for yourself, as far as PR is concerned this is the team to go with. I would absolutely 100% refer you and recommend you work with Annie Jennings PR!
About Annie Jennings, National Publicist and Founder of Annie Jennings PR Firm. Annie Jennings is a sought after national publicity speaker. Annie has presented for numerous prestigious organizations and universities including Harvard, NYU, ASJA (American Society of Journalists & Authors), NAWBO (National Association of Women Business Owners), NAPFA (The National Association of Personal Financial Advisors) and  more.
Annie Jennings has appeared as the publicity expert in major media including Entrepreneur Magazine, FAST COMPANY, TheStreet.com, Inc., Yahoo! and more. Annie has provided the publicity industry with a vast amount of PR knowledge and advice via offering over 500 teleseminars, webinars and podcasts.
Annie Jennings PR provides authors with a Top Market Radio Campaign that includes a performance guarantee, bookings on major radio shows in major markets along with unlimited media training to learn the skill set that allows the author to be prepared, savvy and confident on the air. Annie Jennings PR also offers their famous pay for performance publicity program for TV (with free Skype media training), major print and prestigious online media that allows the author to select a publicity strategy that is just right for them and moves their business model forward. For more details please contact https://www.anniejenningspr.com to set up a time to speak with Annie Jennings.