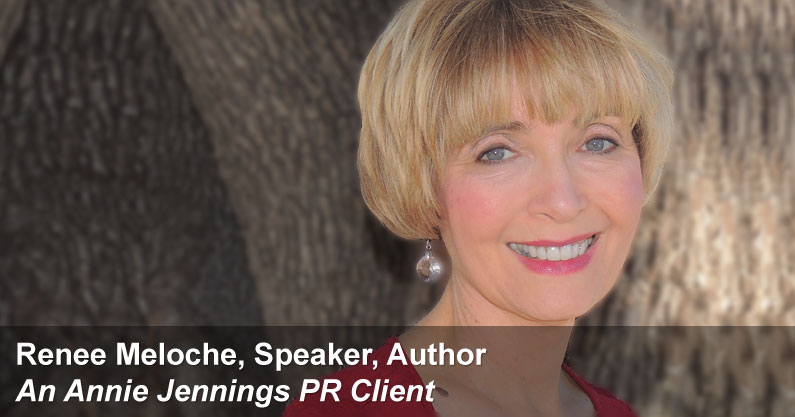 Welcome to the Annie Jennings PR Real Stories of Publicity Success Podcast Series. Annie Jennings is the creator of the most powerful radio  talk show campaign in the country where you are booked on high impact radio talk shows in top markets. Annie is famous for offering guaranteed deliverables.
Radio talk shows offer tremendous book promotion exposure
Find out why this author says in her real story "Annie can really deliver, she can get results for her clients".
Many authors wonder what is the best way to get book promotion
This publicity podcast series about successful book promotion campaigns presents another real story of author success that gives listeners an inside look into what it's like to work with Annie Jennings PR for your marketing and PR media campaigns.
This podcast by Annie's real client tells how to get the most of your book promotion and marketing campaigns
In this podcast Renee Meloche, author of Louis Zamperini: Survivor and Champion, the only children's book on his incredible life and her latest installment in the "Heroes of History for Young Readers" series tells her publicity success story. In just over two weeks, Renee was heard on over 200 stations and featured on CBS Radio, iHeart Media and Salem Radio in major markets such as San Francisco, Boston, and Houston, as well as four national radio talk shows that allowed her to blanket the country with her message.
Listen Here
Real Book Promotion Story: Renee Meloche Says Annie's Reputation Cuts Through The Noise & Gets The Job Done!
Why did you decide to work with Annie Jennings PR for your book promotion? What was the clincher?
Annie has a long-standing established track record of doing excellent work for her clients. Because she is so well-known, she has great contacts which is critical to getting results. I didn't realize this when I started, but due to the huge increase in self published books in the marketplace, radio producers and hosts are just inundated with interview requests. Annie's reputation cuts through the noise and gets the job done. She delivers!
How was your experience working with the radio campaign booking team? Were they good?
Annie thoroughly explained things to me when I first called and made me feel like she had all the time in the world for me. When I signed on, Jason, did a mock interview with me and tried to throw me off my game, which he did. I learned from that and improved. I was well prepared for all types of interview formats and hosts. Annie has a very well-trained staff. The staff was well-trained, supportive, friendly. They were able to leverage my newest book on Louis Zamperini with the release of the movie "Unbroken" and run with it. I absolutely loved the experience.
What did you learn from doing the radio talk show interviews and from working with Annie's PR team?
Annie's radio talk show preparation helped me discover my true messages before I got started with the campaign and her team took it from there. I'm also much more comfortable with the entire process. It's given me the confidence to approach others for future speaking opportunities.
What are you doing to leverage your radio interviews into more book promotion and self promotion?
I'm posting the interviews on my website, starting a blog, and setting up a more detailed interview page on my site to encourage media contact. Annie's radio campaign gave me the confidence to pursue other speaking engagements and I now feel like I have the credibility and the platform to do that. I now have recorded audio interviews I can send out to media outlets. I've already been asked back on one of the radio interviews I did with Annie Jennings PR and Stacy is setting that up for me. So there's ongoing support.
To learn more about Renee Meloche and all of her books in the Heroes for Young Readers series, please visit http://reneemeloche.com/
This real story of publicity success podcast is presented by Annie Jennings, of the National Publicity  & Book Promotion Firm, Annie Jennings PR. Annie is the creator of JenningsWire online magazine that focuses on how people can lead better lives with contributions from bloggers and podcasters. For more information on how you too can experience radio campaign book publicity success, please visit www.anniejenningspr.com
Get book promotion now with America's top publicity firm that offers guaranteed deliverables
Annie Jennings PR books the #1 radio talk show campaigns in the industry and each radio campaign includes unlimited media training and guaranteed deliverables.
Annie works with authors, experts and speakers to help them up-level their media bio, gain more exposure and credibility and build national expert status with booking on TV shows in major cities and regional and national TV show, in print including major newspapers and magazines and leading online media with millions of unique visitors.
For more info on how to get outstanding and high performance book promotion publicity services please contact Annie at https://www.anniejenningspr.com/expert-signup.html
Listen Here:
Real Book Promotion Story: Renee Meloche Says Annie's Reputation Cuts Through The Noise & Gets The Job Done!
Get book promotion for your new book starting right now
Want to reach out across the country and share your message? Work with Annie and get booked on the major radio talk shows in the big cities as well as the regional and nationally syndicated radio talk shows, many with name-brand hosts.
Get unlimited media training with Annie's radio talk show campaign
Over the years, the famous Annie Jennings PR team of professionals have worked hard to create the most powerful #1 radio talk show campaign your money can buy. Many authors say that not only is the exposure of appearing on radio talk shows tremendous but Annie guarantees her radio campaign as well so your money is invested in your future – not wasted. This is a guaranteed deliverable radio campaign. This campaign books you as the guest on top, high-powered an high-impact radio shows that broadcast to the heart of the market in either the top 35 cities or the top 50 cites and on the regional and nationally syndicated shows. Guaranteed!