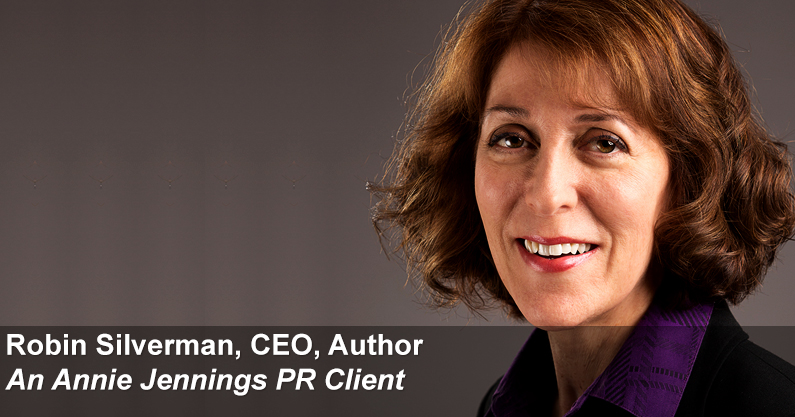 Book promotion with Annie Jennings PR exceeded my expectations
Real publicity client, Robin L. Silverman, author of Feathers: 50 Things You Can Do in 50 Seconds or Less to Lighten Up and Set Yourself Free shares her experience working with Annie.
This is Annie Jennings PR
Annie Jennings PR is the creator of the most powerful radio campaign in the country where you are booked on high impact shows in top markets as well as the famous pay for placement National TV, Print and Online Media program, all with guaranteed deliverables.
Book promotion real story podcast
In this podcast we're joined by Robin L. Silverman, author of Feathers: 50 Things You Can Do in 50 Seconds or Less to Lighten Up and Set Yourself Free, and CEO (Chief Energy Officer) of Fullistic LLC, an organization dedicated to helping people achieve greater happiness and peace.
During her 12 interview guaranteed radio campaign, Robin was heard on over 1,200 stations!
The bookings included big media brands such as FOX News Radio, SiriusXM, CBS Radio, iHeart Media and more, as well as top stations in major markets like San Francisco, Seattle, San Diego, New York, and of course, getting to go in-studio at WCCO.
Robin considered 3 other PR firms for her book promotion but chose Annie, why?
She truly has a commitment to her authors. I knew her many years ago and loved her energy. When it was my time for publicity, I knew she would be the one to call. I was looking at three different agencies but in the end I chose Annie.
Annie's energy sweeps you up and her passion for her authors is evident, but most of all, the thing that clinched it for me was the fact that the placements are guaranteed. No other public relations firm would guarantee me any results. Only Annie Jennings.
Listen Here
Real PR Story: Book Promotion Story: "Annie Was The Only PR Firm That Guaranteed BIG Bookings!" Says Author Robin Silverman
Did your book promotion radio campaign exceed your expectations?
The campaign exceeded expectations on a number of levels. I received more interviews than what was guaranteed. I was truly heard. I mentioned to Jason that I wanted to be on a certain show (my favorite host in Minneapolis) and a couple days later I was sitting cross from her in-studio! They made it happen.
The radio publicity team understood my message, followed through and were incredibly responsive. The work was done so well. They went above and beyond my expectations and never treated me like a client with a fistful of money. It was always "we are in this together and we can make something good happen." My best interests were always in mind. I was supposed to get only 12 radio interviews but I got 15 interviews. I felt they had my best interest at heart and the best interests of the radio shows at heart as well.
Annie offers unlimited media training as part of her book promotion campaign, how was your experience in working with her media coach?
Initially, I didn't think I needed it being a speaker and having done my own show before, but when I had my session with Jason, he really helped me. I was fully prepared and grateful for the coaching.
By working with him I was able to clarify my very complex message and get it down to bullet points that worked for the media. I learned how to be clear, concise and consistent.
They made sure I did not miss an opportunity.
What was also very nice was that Annie's radio team was very good about reaching me. They made sure I never missed any opportunity. They were wonderful to work with in terms of scheduling around a hectic calendar and always went the extra mile for me. A national show had been cancelled a couple of times by the producer and even though my radio campaign was over, Jason was persistent in going after the booking.
He landed the show for me and it was the best one of the bunch. It was one of those things where they did not have to go after the show, they didn't just say "well, campaign is over" – they just kept going after it for me. And booked it. The campaign exceeded my expectations.
How did your book promotion work out, did you sell books?
I did sell hundreds of books and while that is good, it's important to note that the radio is just a part of a bigger picture. I am building a media page for the connections to the interviews themselves. They will be on my website. They are good for my social media. I will be sharing them with clients.
What are you doing to leverage your radio interviews?
They are very helpful for my credibility, my website and for showing clients. I want to stress that you must go into this with your eyes wide open.
Radio is a part of a something larger. As much as Annie Jennings can do for an author, it is important to realize you need to bring your A game to the table. Radio is a very crucial piece in telling the world who you are and what you bring, but this publicity is just one piece. You should not sit idly by thinking radio shows will be magic. You have to put in effort as well in marketing yourself and your book.
What would you say to someone on the fence about working with Annie?
Run, don't walk to Annie Jennings.
I compared proposals from other firms and while they were all willing to take in my message, they just said they would "do their best". One of them actually said "let's just think small" ('really' I thought, and for this you want that money?).
Note from Annie: From the beginning I believed in Robin and her message. I immediately knew that we could deliver 100%, no problem. And nothing small. Just the big shows in the big cities and the nationally syndicated shows. At the end of her 12 interview radio campaign, she received 15 interviews and was heard on over 1200 stations. Now that is how we do PR!
Anyone who wants to make a national impression should be working with Annie.
Robin says that anyone who wants to make a national impression needs to make working with Annie absolutely the very first thing that you do. I will be back and back and back with Annie Jennings PR.
I want to thank you for your brilliant work. Everyone is sincere, authentic and hard-working. I just can't say enough good about what Annie Jennings PR is doing for their clients!
The reason Annie Jennings PR is as good as they are is this: the values and ethics of Annie Jennings PR are astonishing.
Believe me when I tell you that I have talked to other authors who have been desperately disappointed with their PR firms. When Annie Jennings PR says they are "All Heart!" they mean it!
Learn more about Robin Silverman, author of Feathers: 50 Things You Can Do in 50 Seconds or Less to Lighten Up and Set Yourself Free, at www.Fullistic.com
To find out more about working with national publicity firm, Annie Jennings PR, please let us know of your interest by clicking this link https://www.anniejenningspr.com/expert-signup.html. You will go to a form where you can tell us as much as you would like about yourself.
Annie Jennings PR offers a guaranteed deliverable radio talk show campaign that books the bigger shows in the major markets and on regional and nationally syndicated shows.  Also, for TV, print and online media, authors and experts can access our publicity division that is performance based. Annie Jennings PR does not charge monthly retainers.