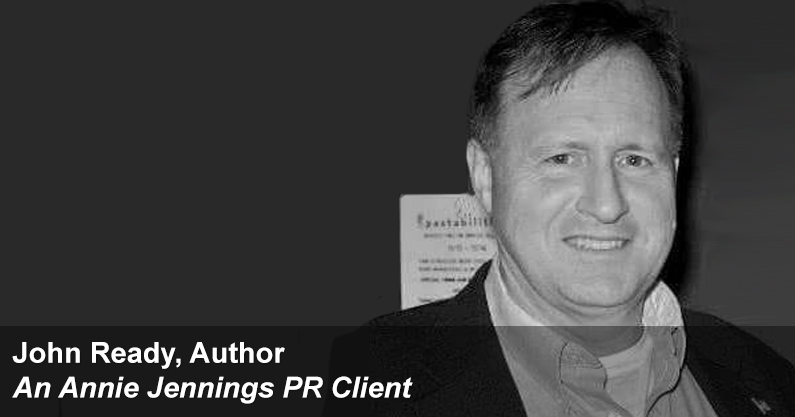 Welcome to the Annie Jennings PR Real Stories of Success Podcast Series. Annie Jennings is the creator of the famous performance publicity campaign for bookings on TV shows, in print media and in prestigious online media outlets.  Annie also offers the top radio talk show campaign in the country which includes bookings on high impact radio shows in top markets as well as unlimited media training and guaranteed deliverables.
Listen Here
Real PR Story: "I trusted Annie. She Puts Her Money Where Her Mouth Is!"
In this publicity podcast, we feature a real story with US Army Retired Major John Ready, author of Does My Suicide Vest Make Me Look Fat? In his radio campaign with Annie Jennings PR he was heard on 255 stations reaching major cities such as Dallas, San Diego, Denver, Philadelphia, Houston and many more via National Shows that reach coast to coast – sharing his book and message.
I found out about Annie Jennings PR's publicity programs through a Google search. What I liked was that there were a lot of positive comments. There was a lot of good feedback from a lot of people who used the firm before so I went with that.
I liked working with Annie Jennings PR so much that I signed up TWICE.
I trusted Annie Jennings PR. I trusted their judgement. They have helped me out in the past. They are a known quantity. Again I trusted you.
You can tell Annie puts her money where her mouth is. She took the time to talk to me and explain what her firm does. She added her personal touch to my campaign.
Working with everyone at Annie Jennings PR was very professional. It felt like they were pulling out all the stops to get my voice out there. Not just for those shows but for my career.
Working with Annie is a very cost effective way to get your message out there. You get lot of bang for the buck for not a lot of money.
They put in a lot of effort for me for not a lot of money. Very hands on. It was very encouraging to have somebody put that much effort into something that I am very passionate about. They heard my passion in my voice and  helped me out.
I really appreciate all that this firm as done for me. It has been a pleasure working with Annie Jennings PR.
*****
To learn more about US Army Retired Major John Ready, author of Does My Suicide Vest Make Me Look Fat? Please visit www.JohnSReady.com
Authors love that they can work with our firm with any level of experience as we help our clients discover their core messaging. We help out clients discover their voice and how it relates to the society we live in. The author or client gets unlimited media training with their radio talk show campaign, a performance guarantee and full support to achieve their highest levels of success in the media.
To speak with Annie herself just fill out this publicity interest form to let us know. Soon you will be speaking with Annie.

Annie Jennings PR is a top national PR firm working with clients to secure meaningful and valuable publicity outcomes for them.
Annie stands for the author. Annie says, "it is our wish that all authors get their chance sharing their message with the world.
"Can we do it? Absolutely? Can we do it at a great price? You bet," adds Annie.