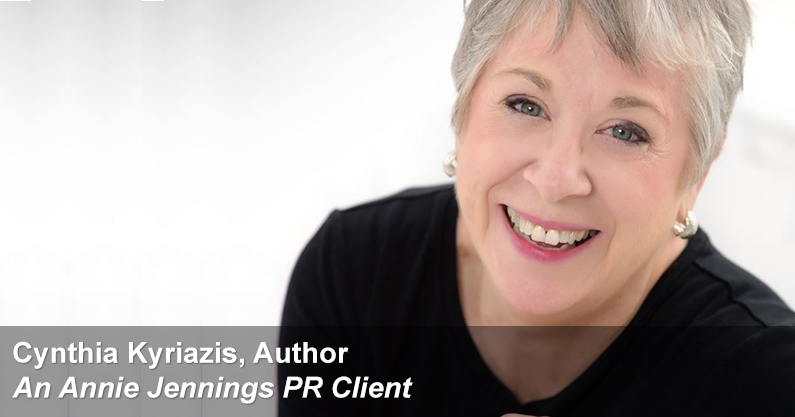 Publicity real client success story podcast
Annie Jennings is the creator of a powerful, guaranteed radio talk show campaign where you are booked on high impact shows in top markets as well as the famous pay for placement National TV, Print and Online Media program where she offers guaranteed deliverables.
We are sharing another real story of success to give listeners an inside look into what it's like to work with Annie Jennings PR.
In this podcast we're joined by Cynthia Kyriazis, Professional Organizer and author of Get Organized, Get Focused, Get Moving who was on board with Annie Jennings PR for an 8 radio talk show interview campaign, but received 12 radio shows, and all in all was heard on over 1300 stations!
Cynthia was heard on 1300+ radio stations via her radio publicity campaign
The shows include major media brands such as CBS, FOX News, iHeart Media, Inc Magazine Radio and more. Cynthia appeared on National Shows with popular hosts such as Jim Brickman and Gordon Deal, blanketing the country with her message and expertise.
Listen Here
Real PR Story: Book Promotion Story: Real Publicity Story: "Annie Provided Everything She Promised & More!"
Cynthia tells her story about working with us. We asked her these questions:
How was your experience working with the radio booking team?
Cynthia says that her experience was "great from the very beginning to the very end and even after the campaign". She adds, "you guys have been with me from the beginning to the very end and it was even better than I thought and I am a professional organizer and a time management person so I watch those things. It wasn't just meeting expectations you really did exceed them".
What did you learn from doing the interviews? How helpful was media training?
Cynthia continues "I will say that the thing I learned the most was what you told me I would learned. I learned how to deliver my message. The media training was phenomenal. Jason (media trainer) interviewed me, we went through the training and then he gave me his honest feedback from all of his experience. He followed up with a list of what to do and what not to do and I made some points for myself before I started the interviews.
Did you feel the campaign was personalized? That you were heard and taken care of like a friend?
I totally felt like I was taken care of. There was never a sense or a concern that I was just another person they are trying to push me through. It did not matter if it was day or night if I had a question you would answered it. You were very good at keeping me on task with updated schedules you were very good with follow up on the emails so we would all be on the same page.
How did you leverage your big brand name media?
I posted the interview on my website and created a media page. That was something I had not even thought of. After I talked to Jason you gave examples of how to write a tweet and I certainly learned how to do that. I found that training very helpful. I saw an increase in traffic to my site.
How will having worked with Annie help you in your career?
I am a one person show. I deliver my message through training, workshops and speaking. To me it was a phenomenal benefit to leverage what people knew about me, to get exposure to new people that had never heard of me. It really helped my ability to go into the marketplace with a more guru status.
What would you say to someone on the fence about working with Annie?
Don't hesitate, just go for it. They provided everything they said they were going to provide plus more and held your hand through the whole process and the outcome was more than we could even expect. It was great!
Learn more about Professional Organizer, Cynthia Kyriazis, author of Get Organized. Get Focused. Get Moving and Founder of Productivity Partners, Inc. at www.OrganizeItNow.com
This podcast is presented by Annie Jennings, of the National Publicity Firm, Annie Jennings PR and the creator of JenningsWire online magazine. For more information on how you too can experience National Media success and guaranteed deliverables, please visit www.anniejenningspr.com.
Annie Jennings PR offers book promotion, publicity and radio talk show campaigns