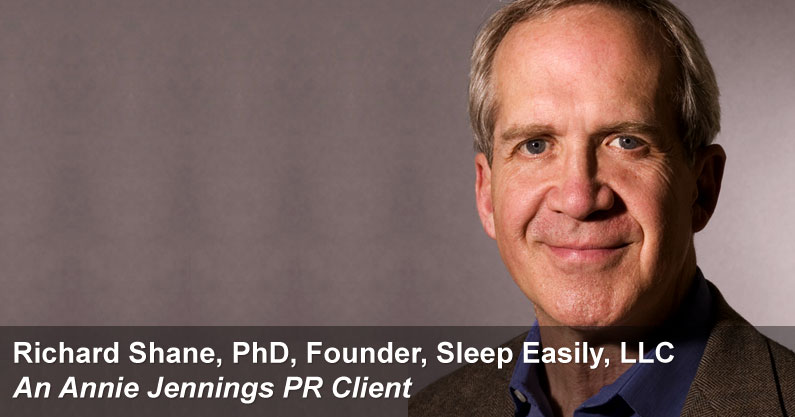 We hired Annie Jennings PR for our publicity after extensive search
That's right, this real publicity client tells how, after interviewing numerous PR firms, he and his management team choose to work with Annie Jennings PR.
In this publicity podcast, the Annie Jennings PR real client, Richard Shane PhD, Behavioral Sleep Therapist and creator of the Sleep Easily method, shares his experience of working with the famous Annie Jennings PR publicity team.
Massive publicity outreach using radio talk shows with Annie
Dr. Shane reached over 160 stations across the country during his 16 interview, guaranteed radio campaign. This includes a National FOX News Radio Tour as well as big media brands such as CBS Radio, iHeart Media and SiriusXM.
In addition to blanketing the country with syndicated radio shows that reached coast to coast, Dr Shane enjoyed major bookings in big cities such as Boston, Detroit, San Diego, Seattle, Sacramento, Portland, San Antonio, Cincinnati and more.
Annie asked Dr. Shane what it was like to work with Annie Jennings PR and would he recommend others do the same. He tells how his team searched across the country for the right publicity team and unanimously chose Annie Jennings PR, and how impressed he was with the quality and professionalism in every aspect of working with Annie.
Listen to what Dr. Shane had to say when we asked him about his experience in working with our firm.
Listen Here
Real Publicity Story "We Unanimously Chose Annie After Searching USA"
How did you decide to hire Annie Jennings PR for your publicity campaign?
Our in-house team, both our business manager and our senior advisor, did extensive research nationwide to find PR firms. They interviewed a number of them and then the team unanimously chose Annie Jennings as the publicity firm we had the most confidence in.
Client trusted her publicity approach more than any of the other firms
The thing that made me sign with Annie was her track record, testimonials and simply talking with her. My first contact with Annie was a team meeting where she presented the scope of what her PR team would do and I was very impressed.
Our firm had been wanting to do a major marketing and publicity media campaign and what she described gave me confidence that she could deliver.
What was it like working with Annie's radio talk show publicity team?
After our initial publicity start-up meeting, my next meeting was with Jason, the Annie Jennings PR media trainer. That was very useful for me. Jason coached me in radio interview skills. I have a lot of experience in speaking and he gave me some very important refinements that I had previously not known about including what I call "secrets" such as how to respond to a question that comes out of left field and how to bring it back to my messaging in a smooth and respectful way. I like knowing these secrets.
After each live radio talk show interview, Jason listened to the interview, as did Stacy, Annie's radio director, and provided feedback in both email form and in phone follow-up so I was able to improve markedly with each interview and the quality of my delivery just went up exponentially during the few weeks during which we did this extensive radio talk show publicity campaign.
Did Annie's publicity team surpass your expectations?
Absolutely surpassed my expectations. Annie's PR team was available by email and phone. Whenever I had questions, their responses to my questions and needs were very clear and helpful. I give her publicity team an A+.
What did getting booked on the big, name brand radio talk shows do for you?
My media bio now is much stronger than it was before and we are just completing the updates on our media page. It's a very strong page that enhances my credibility for any outreach I do in the field of sleep, whether it is to key influential people in the industry or corporations or future media outlets.
I have a very strong foundation that now establishes me as a preeminent expert and thought leader in the field and this extensive media bio helps strengthen our position considerably.
What would you say to someone about hiring Annie Jennings PR for publicity?
I would say absolutely work with Annie on your publicity. The Annie Jennings publicity team delivered beyond what anyone at our firm expected and her publicity is worth the investment for media exposure. The media training was invaluable not just for the media but for any public presentation of my work and has brought me to a much higher skill level.
Work with Annie for your publicity. It's a great investment
I would advise anybody to work with Annie Jennings PR. And the proof of that is not just me saying that but by our actions as we are moving into phase two of working with Annie Jennings PR on television and we would not be doing so if we were not happy.
To learn more about Dr. Richard Shane and his Sleep Easily Method, please visit www.SleepEasily.com
About national #1 publicist, Annie Jennings PR:
Annie Jennings, founder of the National Publicity Firm Annie Jennings PR, has innovated industry concepts for more than 20 years as the media has rapidly evolved. Annie has been a featured expert in the national media including Fast Company, Inc., Entrepreneur, US Weekly, TheStreet and been an invited speaker to NYU's publishing program, The Harvard Club, the American Society of Journalists and Authors and more.
Get publicity with a radio talk show campaign
Annie offers what some say is the most powerful radio talk show campaign your money can buy. The publicity campaign is packed with bookings on the big radio shows in the major markets as well as the regionally and nationally syndicated shows. This results in tremendous credibility and national expert status as well as creating a strong competitive advantage for the client whether they be an author, expert, speaker or consultant.
The highly acclaimed Annie Jennings PR radio campaign offers guarantees of performance, major bookings in big cities, unlimited media training with an award winning former radio news producer that shares his 25 years of industry experience and you work with Annie's professional PR team headed by a radio director with over 17 years of experience working in the radio industry.
Work with the publicity firm with mega experience and offers a performance guarantee
Annie says "why work with anyone who does not have the deep media connections, established and proven over time, in this intensely competitive media booking environment? Plus our clients LOVE the guarantee of performance. While other firms say 'no guarantees of performance' over and over again, our firm offers a guaranteed deliverable for the radio talk show campaign."
Get your pay for placement publicity program to target the exact media you need
Annie Jennings PR also offers a pay for performance publicity package for bookings on TV shows in cities across the country as well as on national TV shows. Annie also provides bookings in prestigious online media and influential print media outlets. Clients love that they don't have to pay high monthly retainers and get to enjoy targeted media placements that further their career and competitive positioning in their industry. It just doesn't get better than Annie Jennings PR.
This publicity podcast is presented by Annie Jennings, of the National Publicity & Marketing Firm, Annie Jennings PR. For more information on how you too can experience National Media success and guaranteed deliverables, please visit www.anniejenningspr.com
Here's how to let Annie know you would like to speak with her about working with her on your very own publicity campaign. Good!
Publicity, PR Firm, Book Marketing Services