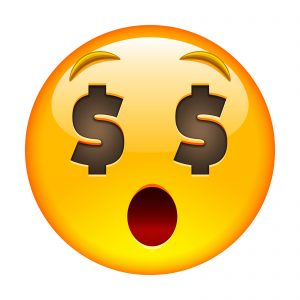 Real publicity story
– This author  tells us what it was like for her to speak with other PR firms.
Well, she says, "it was like all they had was dollar signs in their eyes".
All I am looking for is a little PR for my new book. Yet, every PR firm I call wants to charge me $8,000 or more a month. I can't pay that!
It felt like they didn't care about me or what I wanted. It was all about the money.
No one asked me about my goals, my dreams or my publicity objectives.
$8,000 a month, for what? I would ask.
Then I realized they really didn't have a good answer to that question other than "cha-ching".
So what does an author do to get the right kind of publicity?
The kind that's worth every penny?
They call Annie Jennings PR.
Annie Jennings PR's publicity plans come with guaranteed deliverables, performance guarantees and unlimited media training.
Real publicity client says this about working with Annie:
"Every penny I have spent with Annie has been worth it!" – Attorney and Author, Lauren Bloom
You can listen to Lauren Bloom tell her story here.
Work with this publicity firm, Annie Jennings PR
Want to work with a publicity firm that offers performance guarantees, unlimited media training, access to the major media and lots more? Just let our firm know right here using the sign up button below.
So, want publicity that's worth every penny? 
Then go with Annie Jennings PR!
Annie Jennings is a top publicist and with the national PR firm, Annie Jennings PR. Annie has been a guest lecturer for the Harvard Club of Boston, NYU's Publishing program, the American Society of Journalist and Authors, the National Association of Women Business Owners and the National Association of Personal Financial Advisors. In addition to numerous speaking events appearing as the publicity expert, she has given over 500 presentations on PR strategies, brand empowerment, marketing a book and lots more.
Annie Jennings is the premier publicity expert in the country with her knowledge sought out by professionals, organizations and media everywhere, including TheStreet.com, US Weekly, AOL.com as well as Entrepreneur Magazine, Inc. Magazine and leading business magazine, Fast Company who says that "Annie Jennings PR is the place to go to learn how to be a bestselling author."