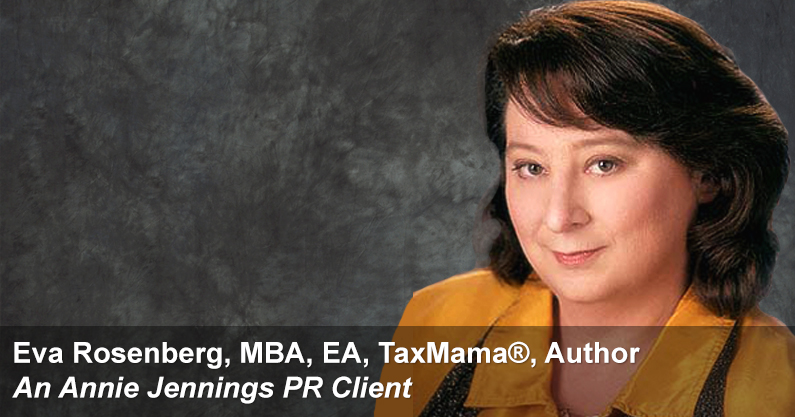 Book Promotion real client story reveals how this author reached over 1000+ radio stations with just a 10 interview radio campaign!
Welcome to the Annie Jennings PR Real Stories of Success Podcast Series. Annie Jennings is the creator of the most powerful radio campaign in the country where you are booked on high impact shows in top markets as well as the famous pay for placement National TV, Print and Online Media program where she offers guaranteed deliverables.
Listen Here
Real Publicity Story "Annie Has The Best Book Promotion Firm I Have Ever Worked With!"
In this podcast, we feature Enrolled Agent Eva Rosenberg MBA (aka "TaxMama") author of the book from McGraw-Hill, Small Business Taxes Made Easy
Booked on 10 radio talk shows yet was heard on over 1,000 stations
Eva is now able to leverage major media brands such as Inc. Magazine Radio, CBS, iHeart Media, FOX News Radio and Westwood One – her voice was heard in top markets including Boston, Washington DC, San Diego, Denver, Philadelphia, Atlanta and many more through big National Shows like This Morning With Gordon Deal and The Jim Bohannon Show.
We asked Eva about her book promotion experience with the Annie Jennings PR team – did Annie exceed her expectations?
Absolutely. You have to realize I have been doing this for quite a while. I have been doing radio either as a paid speaker or an author and I have to say that your team is one of the best I have ever worked with.
Did Annie's PR team take good care of you?
Oh yes, the year before I was working with another team and it was a nightmare because they absolutely refused to look at my calendar and every single booking was a fight. And this time, you tapped into my calendar, you were able to see the open spots, and you put everything in properly and it went like a dream.
Working on my book promotion with Annie was a stress free, delightful experience and we we worked together so well
How was the unlimited media training that came with your book promotion radio campaign?
Annie's media trainer, Jason, knows a lot. So Jason helped me focus on how to discuss what I wanted to express. He taught me about how to promote my book in the interview. Mentioning my book was usually hard for me to do because I tend to go with the flow and I try not to sound like I am selling and he helped me address that better. But Jason taught me how to do it with respect to the show, the audience and to myself. It felt natural.
How did Annie's PR team help you with your social media?
I have been using Twitter and Facebook for a long time but I had never learned how to attach a graphic on Twitter. The neat thing was that you gave me the graphics for all of the different radio stations that I was talking to and showed me how to attach the photos. From then on I was able to attach the graphic for the station, the graphic for the book and now I am attaching graphics all over the place!
What would you say to anyone thinking about working with Annie Jennings PR?
I have to say this – this is the best team I have ever worked with.
They will work around your schedule, book you on radio talk shows with a large audience and they will teach you how to capitalize on your book, your information and whatever it is you are trying to market. It is well worth the time to work with Annie plus even though my publisher only paid for 10 bookings I got a lot more than that and was heard on over 1000 stations!
Annie will over-deliver even if you have not paid for it.
Did you get lots of action on your website?
Yes! We invited people to bring questions to my website TaxMama.com and we were flooded with questions and we helped a lot of people. Getting the word out on the radio really helped a lot of people and we were able to fix a lot of their problems.
Eva's final note to those working with Annie: Pay attention to the media training. Jason taught me a lot. Take the media training even if you have experience.
Learn more about Eva Rosenberg MBA (aka "TaxMama") author of the new book from McGraw-Hill, Small Business Taxes Made Easy at www.TaxMama.com
This podcast is presented by Annie Jennings, of the National Publicity Firm, Annie Jennings PR and the creator of JenningsWire online magazine and the EliteWire online podcast that showcases experts and their businesses. For more information on how you too can experience national media success with a top publicity firm, please visit www.anniejenningspr.com
Get book promotion with Annie. Just let Annie Jennings PR know about your interest by click on the banner below and soon you will be speaking with Annie.