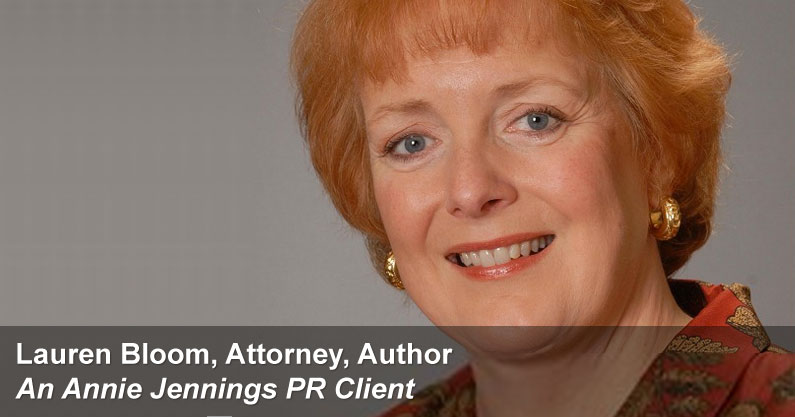 Annie Jennings PR offers strategic marketing services, publicity services, branding and author expert development services. Annie's PR firm helps clients achieve their optimal level of success using media outreach. This highly acclaimed PR firm helps develops messages for clients, helps them identify their key marketing messages and expands their potential. Annie works with individuals, professionals, speakers, authors and experts, businesses and corporations.
Get an outstanding ROI on your publicity services with Annie Jennings PR
Annie Jennings advises clients on how to use their marketing dollars for optimum impact given their personal and professional set of circumstances. Annie Jennings also offers the famous pay for placement publicity strategy that allows clients access to the specific media opportunities required by their business strategy.
In this featured real publicity story podcast, Lauren Bloom shares her experience. Lauren is the President and CEO of Elegant Solution Consulting, an attorney, a speaker and and internationally recognized expert on ethics.
Through working with Annie Jennings PR, Lauren landed many media opportunities that have elevated her career. Lauren tells us her real publicity success story below.
Lauren Bloom is a regular contributor to TheStreet.com and has appeared on the CBS Evening News, TODAY Show, FOX Business News, Good Morning Maryland, ESPN, SKY News London and more. She is the author of the e-book Elegant Ethical Solutions and the award-winning book The Art Of The Apology.
Listen Here
Real Publicity Story "Every Penny I Have Spent With Annie Has Been Worth It!"
What was publicity like before you discovered Annie Jennings PR?
Lauren says "It was difficult. My skills as an attorney and a speaker did not necessarily mean I was terrific at PR. In fact, I really wasn't. I did get some attention, but nowhere near as much publicity as I got working with Annie Jennings PR."
Annie Jennings PR created a PR strategy just for you. What was your PR goal?
My publicity goal was to get to the point where I could get speaking opportunities easily, where I would have the competitive advantage, so I had to become a little bit famous. Our publicity strategy started with pitching local TV shows. My appearances went very well and Sara my publicist with Annie Jennings PR who specializes in booking the major TV, print and online media, was able to book me on the TODAY show.
Because I had been on The TODAY Show other media outlets were calling me!
And then Sara was able to book me – again and again – on big national media. In  a matter of a couple of months I went from being that lawyer with the book to being an internationally recognized expert in demand with impressive and influential international TV and print media to my name.
#AnniesGotASecret Publicity Strategy, How Did It Work For You?
Annie's publicity strategy worked extremely well. Sara understood who I was and what I wanted. And she got it for me.
Financially Speaking, Did You Find Annie's Publicity Services Prices Reasonable?
I did not spend a nickel that did not pan out beautifully for me. Everything that Annie Jennings PR did for me was very targeted and very cost effective. Everything built on everything else.
What was it like to work with Annie and her team? Did you become famous?
Working with Annie's PR team has given me a high profile media bio and now people call me from all over the world for advice. And that's how you do it. That's how you leverage your publicity into new clients.
I really have Annie Jennings PR to thank for this – they have given me exactly what I needed for instant credibility.
My publicist, Sara, has done a marvelous job understanding me and lining up PR events that were extremely targeted for my goals. I was so busy. It's because she knew exactly what I needed. I was being seen by people all over the world.
How was the ROI on working with Annie Jennings PR?
It was a good investment. Everything was a very reasonably priced for the level of exposure I was getting for myself. Since ethics are my thing, I have felt all along that the prices I have paid to Annie Jennings PR have been reasonable.
The best part is that I am only paying for secured media placements. That's what ethics are all about – delivering what you promise.
What's wonderful with Annie is that it's not about taking your money and seeing what she can do, it's 'let me get you the media and then you can pay me a reasonable fee for the opportunity'. Annie gives you a level of personal support that I have very much appreciated.
These segments are so valuable that the prices are skyrocketing with other PR firms. But not with Annie. What Annie would charge only $2,500 for another firm would charge you $19,000 and that's if they can even book it for you.
What would you say to someone thinking of working with Annie?
Go with Annie Jennings. I think they are terrific. I can only recommend them. The work I have done with them as been so successful how can I tell people to spend money on something else?
Getting famous via media exposure can bring a lot of success. Investing in yourself brings you to a new level of respect. Building expert status is like media gold.
Lauren adds, "unless you can get your face out there, with so many people in the market these days, without publicity exposure, it is very hard to prosper."
What opportunities have you achieved by working with Annie Jennings PR?
Thanks to the work that Annie has done for me I have landed a contract with a financial firm and I will be doing a series of workshops for them. I would not have gotten that without Annie Jennings PR.
Why not go with the sure thing in publicity?
And that's Annie Jennings PR!
Annie Jennings of the national PR firm, Annie Jennings PR, has been a guest lecturer for the Harvard Club of Boston, NYU's Publishing program, the American Society of Journalist and Authors, the National Association of Women Business Owners and the National Association of Personal Financial Advisors. She has given over 500 presentations on publicity, branding and marketing topics.
Annie is the premier publicity expert in the country with her knowledge sought out by professionals, organizations and media everywhere, including TheStreet.com, US Weekly, AOL.com as well as Entrepreneur Magazine, Inc. Magazine and leading business magazine, Fast Company who says that "Annie Jennings PR is the place to go to learn how to be a bestselling author."