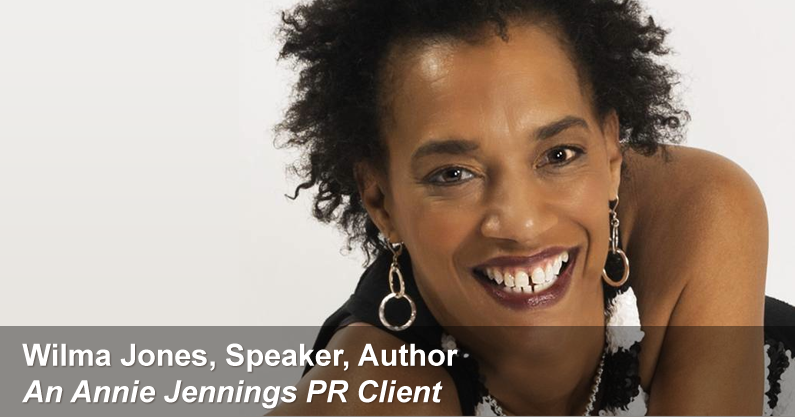 Get book promotion with the famous Annie Jennings PR radio talk show publicity!
There's a lot of buzz going on about the Annie Jennings PR national radio talk show publicity campaign. In fact, many authors and experts say it's the best experience they've had working with a book promotion publicity firm.
What do Annie's publicity clients love? They love the famous Annie Jennings PR top markets radio talk show campaign that is a guaranteed deliverable (you get what you pay for!) and the unlimited media training that comes with each campaign that teaches them how to be prepared, professional and an all around great guest. They love the excitement generated from each interview, from being "live and on the air"!
Most of all, our clients say they LOVE WHAT HAPPENS NEXT for their business growth model.
Listen To Publicity Story Here
Real PR Story: Author Wilma Jones Says It's Thrilling Working With Annie Jennings!
Annie Jennings is the creator of the most powerful radio talk interview show campaign in the country where you are booked on high impact radio talk shows in top markets/cities and on regionally and nationally syndicated shows.  Annie is famous for her guaranteed deliverables in radio and her famous pay for placement publicity programs for TV booking, print and online media publicity.
In this publicity real story podcast, author and client of Annie Jennings PR, Wilma Jones, shares her real story of her success in her radio talk show publicity that gives listeners an inside look into what it's like to work with top media placement firm, Annie Jennings PR.
Why get book promotion & radio talk show publicity with Annie Jennings PR?
"Stacy and Jason at Annie Jennings PR's radio booking division are the dynamic duo of radio talk show PR for me as a new author! They helped to ensure I was prepared for a variety of interview formats and hosts and then delivered great media opportunities for me. I am thrilled with the outcome and have secured a number of additional interviews based on the ones AJPR brought me. I will definitely use them when my next book is published."
Wilma Jones is an author, blogger, speaker and coach dedicated to helping people live better, not bitter after devastating life experiences using the principles of positive psychology. Wilma's most recent book is the reader-acclaimed Living Happier After: 20 Women Talk About Life After Divorce which Annie Jennings PR helped promote during her National radio campaign that included CBS Radio, SiriusXM and major markets such as Washington DC, Boston, Houston and much more!
Sooner or later, you will come back to work with Annie . . . 
Wilma says "I hired someone else first and was extremely disappointed." But when I dusted myself off, I came back to Annie and she welcomed me back with open arms. The results of the bookings have been mind-boggling!
What was your favorite part in working with Annie Jennings PR?
I think it was just the excitement of all the new bookings.  It felt like we worked as a team and that Annie wanted me to succeed as much as I did.
Why did you choose to work with Annie Jennings PR?
I was speaking to them for over a year and at the time I was also looking at other firms. I wound up selecting another option and I was extremely disappointed.  It knocked me on by butt regarding PR. Once I decided to continue on with my efforts to promote my book, workshops and most importantly, my mission to reach women with my message, I reconnected with Annie and made the decision to hire her firm. Now, I am extremely pleased with everything I was able to achieve and the reach that I got with the different shows.
What was the clincher that made you decide to work with Annie Jennings PR?
One of the things the impressed me was that when I reconnected with you it was just like "hey great to hear from you" and we just picked up like I was just speaking to you a week before. I felt very confident. Annie's team was extremely professional and focused on what they firm could do for me as a client.  I made a list of pros and cons and decided to invest in myself and your guarantee made me feel confident that you would work hard for me. It turned out to be a really good fit for me.
Did any new opportunities arise for you after you started getting PR coverage?
The producers, the talent and the people I met by going to the stations here in Washington DC were awesome. One interview was on SiriusXM and the other on a major show during drive time.  The shows called me to come back on the show. The fact that Annie prepared me to give the best interview I could turned into an ongoing relationship with the media.
Wilma is the author of the reader-acclaimed self help book, Living Happier After: 20 Women Talk About Life After Divorce, which was lauded by one Amazon reviewer as "A roadmap for triumphing over personal crisis."
This podcast is presented by Annie Jennings, of the National Publicity Firm, Annie Jennings PR and the creator of JenningsWire online magazine. For more information on how you too can experience media placement success, please visit www.anniejenningspr.com
Working with Annie for book promotion and radio talk shows
Find out more about how to work with Annie Jennings PR here. Just fill out this form and Annie will be in touch to set up a time to talk about how you can accomplish your PR goals with media placements.
Annie Jennings PR offers radio talk show bookings, local, regional and national TV shows, print and online media placements.
Want to listen to another real story? Discover how Ken Mahoney worked with Annie Jennings PR to break into the TV media and become a regular guest on FOX and CNBC. Here it is!
Listen Here:
Real PR Story: Author Wilma Jones Says It's Thrilling Working With Annie Jennings!