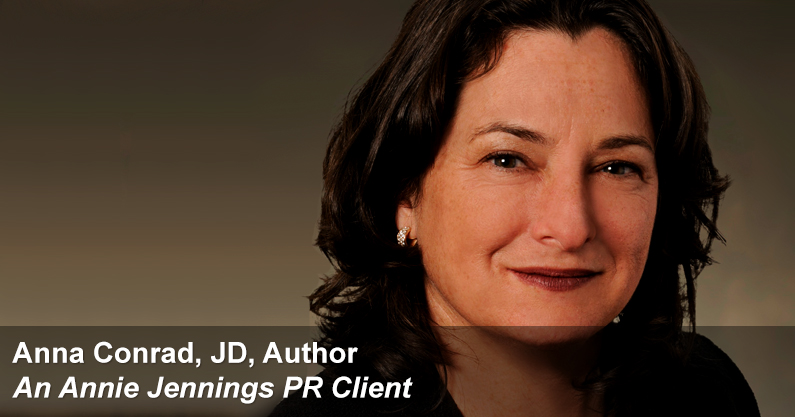 Publicity real story
In this publicity podcast we're joined by Fortune 500 Leadership Consultant, Anna Conrad, J.D., author of (R)evolution: One Man's Leadership Journey and founder of Impact Leadership Solutions.
Anna was heard on 300+ radio stations with just 8 radio interviews
Anna was on board with Annie Jennings PR for an 8 interview radio talk show publicity campaign. When she was finished, she was heard on over 310 stations! This includes big media brands such as CBS Radio, iHeart Media and on National Shows with popular hosts like Gordon Deal, blanketing the country with her message and expertise.
Listen Here
Real Publicity Story – "I Am Getting Higher Fees Already!"
How was your publicity experience working with Annie Jennings PR for your radio campaign?
My experience was fabulous and exceeded my expectation. I was not expecting to get such widespread coverage. That was amazing.
And talk about fun to work with and flexible. The whole staff just absolutely terrific.
Did the unlimited media training help you do a great job on the radio shows?
The media training was invaluable. I am paid to be a speaker everyday but it is different speaking before a crowd than it is going before a radio audience.
Annie's media trainer, Jason, was fabulous. He helped me learn how to consolidate and articulate the message that I wanted to bring forth.
Did you feel the radio publicity campaign was personalized for your goals?
What I loved about working with the staff is that you guys really got to know what I really wanted, what my target was and who my best audience would be. You listened to me. You didn't just try to plug me into anywhere that would take me.
When I worked with other PR firms they just put me wherever and I had to say "no, I don't want to do this". Your firm just knew what was best for my objectives. Your team worked within my booking preferences.
How did Annie Jennings PR publicity provide you with actually benefits?
I saw 25% increase in website traffic and an increase in book sales as well. However, that was not what I was going for.
My main goal was to increase my credibility to increase my speaking fees eventually. But higher fees came much sooner than expected!
Based on what I do for a living, we offer set fees. What I noticed is that I felt more confident in quoting the higher fees. I had increased confidence because of the additional credibility in that I was now considered a national expert who was heard on over 300 radio shows. The radio campaign has already paid off!
What would you tell someone who was thinking of working with Annie?
Jump over that fence very quickly. It was worth every single moment that I spent with them. The training that I received was invaluable. The feeling that they were on my side. It wasn't just a business to them. For me this is more than just a business. This is my brand. This is me. I felt like I was really taken care of.
More About Annie Jennings PR specialize in booking radio talk show campaigns:
Annie Jennings PR is a national publicity firm that offers guaranteed deliverable radio talk show campaigns that include bookings on the high-powered radio shows in the major cities in the US plus includes booking on national radio talk shows and networks. Clients receive unlimited media training from an award-winning producer and booker for a major national network as part of the campaign with no extra fees. You'll learn how to be a savvy media expert, confident and prepared.
Annie's publicity comes with lots of #FREE perks!
Annie's PR firm also offers her famous pay for performance publicity model where she does not charge monthly retainers. Her clients love this aspect of the firm as they are able to target specific media the moves their business goals and objectives forward.
Annie works with authors, experts, speakers and businesses helping them with book promotion, publicity, marketing and branding.
Work with Annie. Let her know of your interest by setting up an appointment to talk about your publicity goals. Use this link: https://www.anniejenningspr.com/expert-signup.html
Talk to you soon!