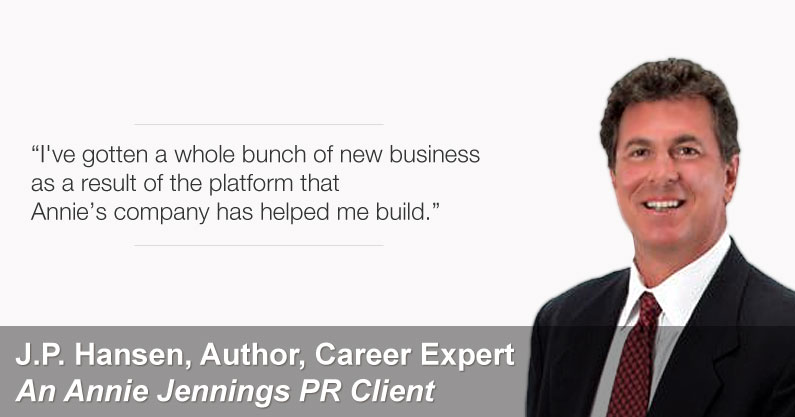 Book Promotion & Publicity Success Story
Did you ever wonder how other people seem to make their book a smash hit success? While at the same time, catapult their careers to new levels, get more new clients and lucrative opportunities?  The trick is to use exposure in the media such as book promotion and publicity in ways that work to your advantage.
Annie Jennings, national book promotion and publicity expert, who is famous for her contributions to the publicity industry from creating the platform strategy that many authors, speakers and experts use today to crafting specific PR success strategies, shares some of the success secrets she uses to get outstanding outcomes for her clients using PR techniques. The first thing Annie says is that "all clients are different and their media campaign has to be strategized perfectly and exactly for what they bring to the table."
In this book promotion and publicity success podcast, J.P. Hansen tells how he achieved mega success in his career using publicity with Annie Jennings PR's strategy. How did he do it?
Listen To Publicity Story Here:
Real Publicity Story: JP Hansen Tells How Working With Annie Landed Him A Bunch Of New Business
J.P. Hansen is a career expert who has appeared on Fox News, CBS, ABC and NBC TV, radio shows across the country and in the L.A. Times, Fortune, AOL, CareerBuilder, CNN.com, and FoxBusiness.com. His book The Bliss List has won four awards and was  featured in Reader's Digest magazine.
A lot can happen in one year
J.P. shares how to move past your fears of success, of spending money and investing in yourself, of rejection.  J.P. offers up his real life story starting from the beginning of being so far away from living his dream to being able to say that his life has changed and he is now "living the dream" (and its only been about one year after Annie).
Author of The Bliss List, Career Expert, J.P. Hansen says:
"There are millions and millions of titles on Amazon.  How do you position yourself at the top of the list? This is where Annie really helped me out. Here I am a self-published author appearing on FOX NEWS, LA Times, Fortune, CNN and down the line because of her efforts.  It's dizzying almost. You have to pinch yourself . . .
A couple hundred thousand in new business . . .
Annie Jennings PR got me started the first day. Now, I've gotten a whole bunch of new business as a result of building up my platform. The return on investment would put me in a Wall Street Investment Firm.
I interviewed 5 or 6 PR firms before I hired Annie
Getting on those types of media channels reached so many people and I could not have done it on my own. Obviously Annie's energy was perfect and she was really genuinely excited. Many firms did not give me the time of day and I got some junior people in the firm. I spoke directly with Annie.
I am willing to roll the dice and throw the chips on the table and invest in myself but Annie was willing to say that she would only get paid if she got the placements so that was really appealing to me. Plus, Annie came highly recommended from another author who used her as well as from a marketing firm. It was a no brainer to work with Annie.
Annie's 'Ladder Strategy' worked for me. It built my confidence.
Annie's media trainer, Jason, did a great job on prepping me on how to be a good strong interview on those media outlets. The list of media Annie secured was so long I could not even fit it on one page.
It all worked like a symphony for me.
It wasn't until I started doing the real active meaningful media with Annie Jennings PR that my platform really started to grow.
Next my goal was to get published by a big publisher.  
I wanted to get an agent for the book so I sent out 3 query letters to my top prospects that had all said no before (remember, before working with Annie I sent out 308 query letters to and they all said no). One of the 3 was my top target. She accepted with enthusiasm. I could not have done it without all that Annie Jennings PR has done for me.
To connect with career expert, J.P. Hansen, author of The Bliss List, The Bliss List Journal, and Pink Slips and Glass Slippers, please visit  BlissList.com.
Authors, experts and speakers love working with Annie because the publicity programs her firm offers are guaranteed deliverables and pay for performance based. Annie Jennings PR offers the popular top markets radio talk show campaigns where you are booked on major radio talk shows in top cities as well as the regional and nationally syndicated shows. The campaign comes with performance guaranteed and unlimited media training. Unlimited media training is essential for you to create the media skill set you need to reach your optimal success.
To speak with Annie about the famous Annie Jennings PR radio campaign that guarantees high impact, high listenership interviews in major markets please click here.
Annie Jennings PR Book Promotion & Publicity Services Include:
#1 Big Shows Radio Talk Interview Campaign With Unlimited Media Training
TV Bookings, Print & Major Online Bookings
Famous Pay For Play Publicity Program For TV, Print & Online Media
Beautiful Book Trailers, State Of The Art Websites, Speaking & TV Video Demos
#1 Most Powerful Radio Talk Show Campaign Your Money Can Buy
Listen Here:
Real Publicity Story: JP Hansen Tells How Working With Annie Landed Him A Bunch Of New Business