Book Marketing Tips & Strategy For Authors.
Many authors have questions about the best book marketing strategy to use to help them achieve their goals. Here are some book marketing questions whose answers work to form the foundation of an effective book promotion campaign:
What are the types of publicity available to authors?
What are the goals and objectives for your book?
How can authors create a comprehensive book marketing strategy?
What is the mindset of author success?
What style press release works best for media bookings?
How do authors get up close and personal with their target market?
Is it possible for new authors to build up an influential brand?
What about podcasts? Should they be included in your book marketing plan?
Many businesses add power to their marketing punch by writing a book that showcases their business thoughts, ideas and services. Their book can also showcase their philosophy of doing business and how they can serve their clients better than their competitors. With self-publishing, publishing your own book can be easy. And you create a powerful marketing tool. When you create a book marketing strategy you will want to incorporate many touch points with your potential reader. Another benefit with self-publishing is that you can add in lots of ways to contact you such as your email, website and phone number. Contact touch points include an author page on your author website, all of your social media including your Facebook page as well as the following Facebook, Twitter, LinkedIn, Instagram etc. and phone number.
Want to learn more about book marketing? Be sure to check out Bowker.com. Bowker provides tools to help authors promote and sell their books as well as resources, such as the Books In Print® database to help make their titles more discoverable. Bowker, a ProQuest affiliate, is the official ISBN Agency for the United States and Australia.
Book Marketing Opens Many Doors Of Opportunity.
At the end of the day, many authors ask how their book can empower them rather than how many books can they sell. Embrace the newest marketing and promotion ideas to your advantage. The goal is to optimize what you can do as opportunities arise. Writing a book to showcase your business is a great idea. And the next question is "Okay. I wrote a book, now what?" The answer to that question is to create an influential book marketing strategy.  This will include how to get your message out in the world working for you. Being seen and heard all over the internet and directly by your clients and prospective clients is the goal. Book promotion can be fun and rewarding. It can open the right doors that might have been closed to you before your book.
Ready? Let's go! Enjoy lots of marketing strategy and thoughts below.
Our real publicity client Gail. F. says: "I did the radio campaign with Annie Jennings and I really enjoyed doing all of the radio interviews. Interesting enough, I received a call from someone in the Federal Government that had heard me on the radio. She bought my book and really wanted me to talk to some of her groups that included the Smithsonian, The American Museum of Black History along with a lot of Federal Institutions. I did conduct a talk this past week. It was an esteemed invitation. I was thrilled to get that call. It was unexpected." Listen to her podcast and real publicity success story here.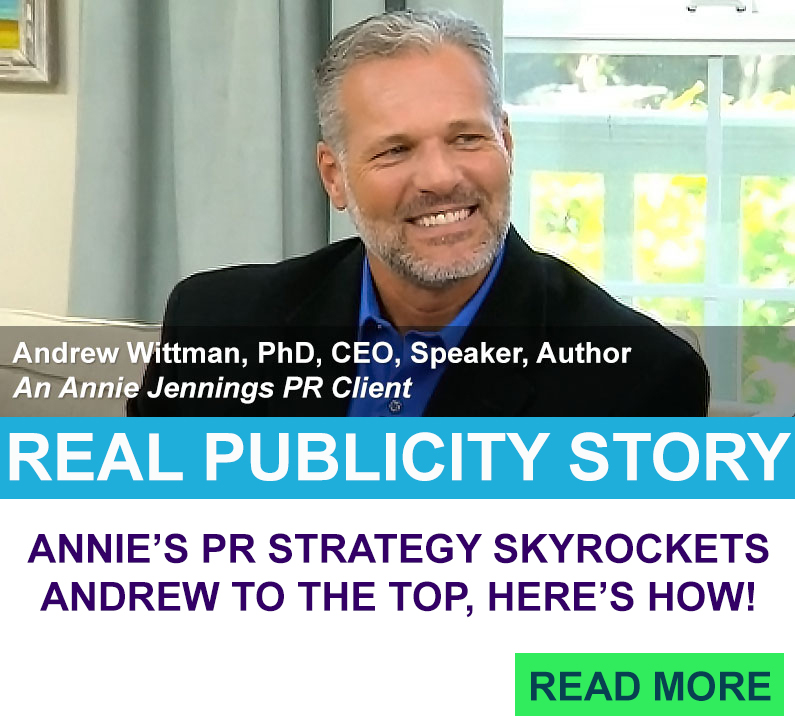 Success Starts With Professional Book Marketing Ideas & Strategy.
Book marketing allows you to achieve the media placements of your dreams. With the right publicity strategy you may find yourself landing on the major and influential media. There are many ways to market a book. You can do so with book signings, author parties, launch parties as well as social media, offering free chapters, blog posts, book reviews, your email newsletter list and more. Marketing a book includes being seen and heard in the traditional media. Traditional media includes being a guest on radio talk show interviews, TV shows in various cities and getting booked in the online media outlets. Also becoming more popular are offline events such as in person workshops and speaking events. However video, online presentations via Skype and Zoom are important should you not be able to travel or conduct an in person event.
Good marketing involves lots of touch points to your target market in all different ways. Always keep your marketing ethical and valuable. Avoid "here today, gone tomorrow" book marketing ideas and stick with the time-proven marketing strategy designed for constant empowerment. Yes, your brand matters but we can talk about that later, but for now, the stronger your brand, the better. The stronger brand generally wins an opportunity as the stronger brand carries more influence, credibility and clout.  Your book marketing strategy inherently positions you to build a better brand reputation.
Avoid book marketing and book promotion stress.
Marketing a book takes lots of time, energy and dedication. Many authors grow tired of pitching the media as they are very hard to reach however, authors do enjoy some of the other marketing strategies such as giving talks and workshops, holding book signings and book launch parties. And why not, publishing and marketing a book should be a source of happiness and pride. And why not have some fun while you are promoting it as well.
Once your book marketing becomes stressful, it's time to switch gears and change the way you think about what you believe your book can do for you. There is a set of deliverables of what your book can do for you and what your book can't do for you. If you know this, you can release the stress of striving for a deliverable that has a low probability of happening and enjoy what you can achieve. Many authors get caught up in book sales. This can be a source of stress. Instead, create a mindset for yourself of sharing your message to help others. If your message resonates with an audience, the chances of your books sales increase.
Some of your marketing you can do yourself, but some of it, the professionals can do for you. In fact, it's a great idea to hire people who have talents in a variety of areas to help you. But don't get discouraged because once you get the publicity ball rolling, it's hard to stop. Authors love all the attention. And a good publicist can keep the action moving for you. Publicity begets publicity, media begets media – you just have to get to that tipping point.

It makes a difference whom you hire. The secret to success is to hire the publicist who has a proven track record of results. You see, publicists generally cannot be all things to all people. Publicists specialize. At our firm, Annie Jennings PR, we specialize in top level media carefully targeted to add value to your overall business marketing strategy. Other publicity firms find it extremely difficult to compete with our firm. Not just because of our packed history of deliverables and ability to provide prospective clients with proof of concept, but because we offer guarantees of performance. We set the bar quite high in that our PR firm provides top level media opportunities on radio talk shows, TV shows and high impact online media.
Many PR firms are fearful of offering a guarantee and one thing you can expect to hear from other PR firms is that they cannot guarantee exposure. Yet, you still have to pay the monthly retainer even if you do not get any media bookings. At Annie's we work differently. We offer guaranteed deliverables and our famous performance publicity PR programs for savvy experts who wish to use their appearance and presence in the media as a competition tool. They can target specific types of media that will be meaningful to their overall marketing goals. Who else can do this as well as Annie? From what the marketing community is talking about, no one. As they say, it is very hard to compete with Annie Jennings PR. The right client can achieve tremendous results with our firm.
More book marketing tips, strategy and insight.
The right publicity tools and PR strategies are keys to your book promotion success and can make the difference between success and failure. But what do you need to get ready for your book marketing efforts? The first thing to note is that starting very early in the publishing stage helps. You can tease your social media with news of your upcoming book, release snippets and perhaps a free chapter or two. You can deliver these chapters via email so you can build up your community list and enjoy pre-publication activities such as developing a relationship with your target market.
Real TV Publicity Success Story:

"I achieved massive success with Annie. It's only within the last two years that I have done anything different – and that is that I signed on with Annie Jennings PR.

Now I am about to hit critical mass.

My media profile is so big now I can't even keep up with it. It's just every day something new!

The media I have received is really a big deal. It's the big brand name media as well.

All of my media just opened the door to a big publishing house. It would never have happened without the strategy that Annie uses for her clients.

It's literally insane to not work with Anne Jennings PR.

" – Andrew Wittman, PhD, CEO, Speaker, Author
For book marketing success, hire the right PR firm for your goals.
As a new author going out into PR land for the first time, the sheer number of publicists and PR firms available to you can be overwhelming. Remember, there are low barriers to entry in this industry. New PR firms with no experience can simply buy a media list and put out a shingle. Just by definition of being new, they would most likely not have the rich relationships with the media built over time that can benefit you and result in media bookings.
You can speak with numerous publicity firms to find out what they have to offer and how it can benefit you. This knowledge can help you create a strategy that you feel works for you. The reason authors like working with Annie Jennings PR is that she and her team mentor you up the publicity success ladder. Once you are working with us we can help guide you through the maze of options for book marketing.
At our PR firm, we offer traditional media, online major media and podcasts.
Traditional media is media such as getting booked on radio talk shows (keep in mind, they have a built in audience and you are "live and on the air"), getting booked on TV shows, or offering commentary to an online publication or being the expert interviewed in the bigger newspapers and magazines. This is the area in which we excel. And we have a strategy for new authors to help them achieve their optimal levels of success that includes unlimited media training. We will talk about what it is you would like to achieve and see if we are a good fit. Our clients tell us that they appreciate our honesty and integrity when it comes to what we can and cannot accomplish. We know you want results and we want what is best for you.
Regarding podcasts, some sources report that there are about 1,000,000 podcasts available to listeners and over 20 million episodes. Although podcasts are all the rage right now, many podcasts may not have the longevity or listenership to make a difference in your marketing strategy. With that said, there are many popular and successful podcasts that might be a fit for your topic should they have a profile that matches your content.

Website marketing tips – prepare your author book website for a visit from the media.
Before your pitching call to the media, such as a radio talk show in your local city, create the marketing materials you will need such as a current author page or website. This website should showcase your book (an about the book page), have a book trailer that reveals the message of the book and the deliverable to the reader, a press release that contains all of the relevant information the media will need should they decide to work with you, fully loaded media kits, a video demo of you on recent TV Show or audio demo of you as a guest on a radio talk show. Your online media kit should contain a question and answer section, book description a short, media and long form author bio, links to your social media and a list of any other media you have done along with links to the media if available. Your website should include a blog that is current with social relevancy as it relates to your book. Also, be sure to let the visitor know if an ebook version of the book is available. Promoting an ebook can use the same strategy for overall book promotion. Stay in the game. Your marketing efforts will pay off over time.
Keep in mind the more prepared you are via your author website the more the media will want to say yes to you. Always be ready.
If your website needs updating, do it right away as you may never know what opportunities have passed you by. With regard to updating the website, it might be a good idea if you are not sure how others view your site, to get an independent third party to give you their first impression. Ask them how easy it is to navigate your website and if they are motivated to buy your book or work with you based on their experience with your author website. Our firm can evaluate your book marketing website. We look for certain things that will help you with the media (or hurt you with the media) and of course, encourage an easy to purchase book sale conversion strategy.
One more thing, your website should give the impression that you are at the height of your career. It's your time. This can occur with an author page refresh as this shows you are active and moving in your career. Be sure to add your media bookings and other accomplishments of merit as they occur. In this business some things sadden me.  One of those things is a top expert who is capable of fully contributing to the issues facing our society but with an old website that has not been touched for years (in some cases, it could be up to ten years). So let me ask you, what message or first impression does an obviously outdated website send to your visitor? Although you are very accomplished, your author website does not reflect this so you can be passed over quickly as the visitor moves on to find a more convincing expert.
Book marketing tip: respond quickly to a media request.
The idea behind this marketing strategy is that once you capture the media's attention with your initial outreach, you have to act fast to keep their attention because the media moves quickly. If they think you might work out for a media opportunity they have, they will give you a call, ask for more info, go to your author website, evaluate your author page and ask for your point of view and look for proof as to why you would be a good candidate for their opportunity.
The media also likes to see previous media experience as it sends a message that you know how to be a media guest. Don't be surprised at direct questions when the media contacts you. They just need to know the information. They might even ask a direction question such as "why are you qualified to discuss this topic?" and they just really want to know. It is easy for anyone to use the word expert when describing themselves. However, the media will be searching for proof of concept that you really are an expert. Credentials, experience and other media placements and accomplishments will all work in your favor.
Book marketing includes radio campaigns, TV shows, online media & podcasts.
All successful publicity strategies begin with a vision. What do you want for yourself? What would you like to accomplish? Most authors will answer that they want to live their book out loud. They want to experience the joy and satisfaction of being able to share their message with people all over the nation or the world. They have invested a lot of their time, energy, passion and knowledge into their book.
Now, with book marketing, it's time to let your message soar. That's possible using the wide variety of media available that includes being booked as a guest on radio talk shows, on TV shows and in the many influential online media venues. These are all media platforms that allow you to reach out nationwide and reach a large audience. Traditional media (radio shows, TV shows, major online media sites) is the cornerstone of a successful book marketing strategy.
Here are some radio resources to  help you learn more about the radio industry, the genres of shows and overall industry trend info, Radio.com and Nielsen.
Book marketing & book sales.
Many authors have learned through experience that book sales are the exception these days and not the norm. This is because of the sheer number of books being published each year as the self-published industry continues to grow. Of course, an exception is when the author is able to offer their books after they do a presentation to a group or sell their books in bulk to a business or company that can use their book for training or for a perk to their customers. Authors report lots of sales from their speaking events and have noticed that appearing in the media has led to more opportunities for speaking or consulting and then for book sales.
So although book sales are hard to come by in this competitive marketplace with the self-published authors continuing to grow, when you connect with your target audience, opportunities can come your way. Always think of your media as outreach. You may not know where your next big opportunity will come from so it's good to load up your publicity and marketing strategy with a variety of media.
The publishing space is extremely crowded with other authors especially in the self published venue. Self-publishing continues to grow at a fast clip year after year as many authors, experts and speakers add a self published book to their marketing strategy. They use it to get more exposure and create credibility. Remember, your audience can find you in numerous ways now and you don't know where your next opportunity will come from so a book makes perfect sense as it could fall into the right hands.
The ebook market continues to grow rapidly so be sure to create the ebook (or Kindle Unlimited) version of your book.
You may not be able to predict the outcome of your marketing strategy but you certainly can play the game.
As we like to say at our PR firm, be everywhere at all times. I know, easier said than done, but get out there, stay current and seek the advice of a professional publicist to get your best results. With so many authors pitching the media, established publicists have a nice advantage and usually enjoy a long-term relationship with the media. Their judgment is respected, therefore, their clients will be well-received by the media for an initial evaluation. Also, a publicist will not risk their reputation by pitching outside the established protocol for the industry.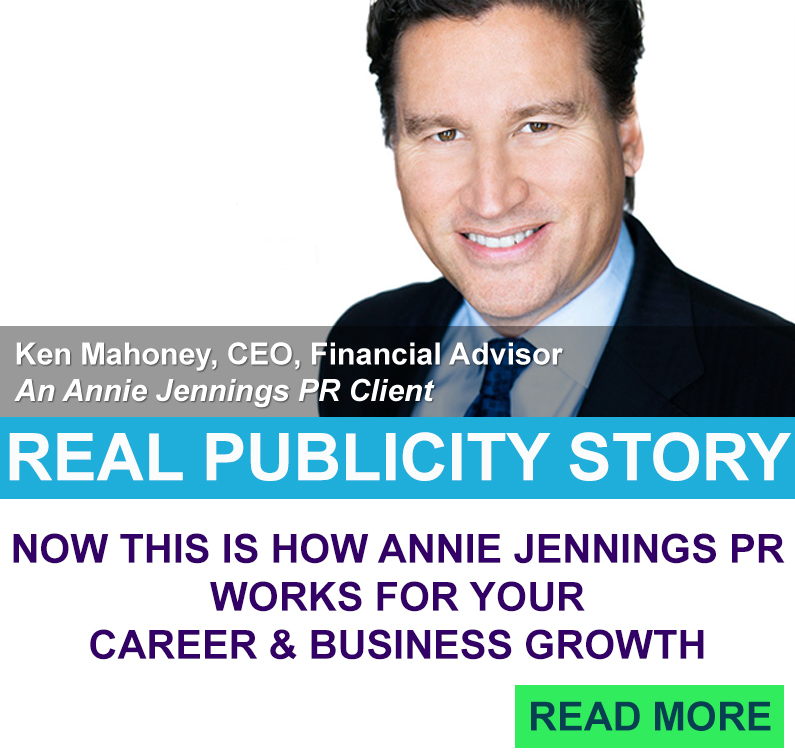 Book marketing tip: Ask about performance publicity, guaranteed deliverables and the value that PR has for you.
At Annie Jennings PR, we like when new clients ask "what's in it for me?" meaning what will they get for their money? At our PR firm, we offer the #1 radio talk show campaign with a guarantee of performance and unlimited media training so you can be a great guest. Our contract says that if we don't perform according to the agreement we don't keep your money. Nice, right? Our firm is highly respected by authors for being a firm that keeps their word and backs their products. Clients tell us that before they met us, all they heard from PR firms was that they could not offer guarantees. Clients tell us how refreshing it was to discover our firm where they get performance guarantees and deliverables.
When choosing your PR firm, always go after the goal. What is it that you want to occur from your time, money and energy and choose a firm that has a history of experience producing that outcome.
Book marketing begins at home.
Get started. And this can be the hard part as some authors report that it all seems so complicated. You have to start somewhere right? So begin in your home town. Have a book party to launch your book and set up speaking events. These starter events get your book PR going and build confidence. Perhaps you can offer a presentation to a local business or organization. Start networking with the people you know to discover your local opportunities.
Never be afraid to invest in yourself. When you work with Annie's PR firm, you get a professional and experienced PR team who believes in you from the beginning. Annie Jennings PR has PR and marketing programs designed to help you build yourself up to be the very best you can be. Your publicity comes with performance guarantees and other valuable perks, such as free unlimited media training that other firms would charge an additional fee for, but not Annie's PR firm. She gives you what you need to be successful, not only by teaching you a media interview skill set, but by believing in you and seeing your potential as both an author and media personality.
Book marketing mistakes to avoid for authors.
One of the biggest mistakes authors make is to blast the media with a generic press release. This strategy is considered spamming the media. It is better to target the media you are interested in and create press materials, segment and/or article ideas that match the profile of your target media outlet.
Remember, each media outlet has a profile and a demographic. In the case of TV and radio, they invite guests on the show that match this profile as the goal is to provide meaningful and valuable conversation to the audience. This keeps listeners and viewers loyal and this impacts the show's ratings.
Once you know about your target media's audience you can tailor your pitches to match what they would be looking for in a guest or expert. The media has a responsibility to book guests that match their profile of their audience. One way to get blacklisted from the media is to blast a press release all over without targeting. Imagine thousands of authors doing this and you can see why the media is resistant to working with anyone who does not respect their time and the booking protocol. This is why publicists are essential to your success as they know how and when to pitch the media responsibly. One of the best tips for book marketing success is to only pitch the media that has a profile that matches your book's subject matter.

How to find a strong book marketing firm.
Start by searching for keywords that seem to work for your publicity objectives. These days, PR firms tend to specialize. Some firms book online media, some are great with blog tours while others specialize in booking radio talk show campaigns. Be sure to understand the specialty of the publicity firm. Decide if working with the firm is a good fit for your objectives. Always ask the question about what will you get for your money and what are the guaranteed deliverables, if any.
Annie Jennings PR offers guaranteed deliverables, meaning you get what you sign up and it is in the contract. One word you want to be on the lookout for when speaking to other firms is TRY. The will TRY to get you booked. No. The idea is to get you booked, not TRY. At our firm, we go out to the media with the intention of getting the booking on the media that is a match for your goals, topic and credentials.
Beware of the pop-up book marketing firm.
The barriers to entry are not strong in the book marketing sector allowing many unqualified or low qualified individuals to enter the publicity industry. They can just buy a media list and say they are a publicist. The barriers to entry are low, but the price the client pays is high. It takes years of experience working with the media and building up a strong brand name for a PR firm to garner the respect and attention of the media. This is what it takes to book the most advantageous and influential media opportunities for clients. New publicists face challenges with the media as their name brand is not familiar and there are so many of these new PR firms sprouting up.
This business operates on trust, competence and experience. To get the media that is meaningful to your book marketing, working with an experienced and highly branded publicity firm is always best.
How book marketing leads to sales.
The answer is an easy one. If no one knows about your book, how can they buy it? Book marketing is essentially about sharing the info about your book to your marketplace so your potential readers can decide if your book has any value to them. If the answer is yes, a certain percentage will buy your book and you will enjoy book sales.
Think of your book marketing as an audition for a book sale.
You have an audience. They are listening to you. They are building a relationship with you and deciding if they like you and want to know more. If so, bingo, you might have a book sale.
For example, if you are booked on a radio talk show, you will be reaching tens of thousands of listeners or more and if you build up a relationship with them during the interview and your topic is something that resonates with them, there is a likelihood of increased book sales.
What helps with building a relationship with your audience? Media training.
Annie offers unlimited media training: An established media trainer with a history in the business knows how to create a bond with the audience. Your media trainer can show you how to create a relationship with the audience as well. No one likes to be sold. You'll learn how to have an interesting discussion about the subject matter and how to mention your book when it is appropriate. You will learn how not to make the mistake of thinking that the interview is all about you selling books. This line of thinking will stunt your creativity and negatively impact the quality of the interview. It's better to enjoy the process, know your guest skill set and messages and conduct your interview without worrying about how many books you will sell.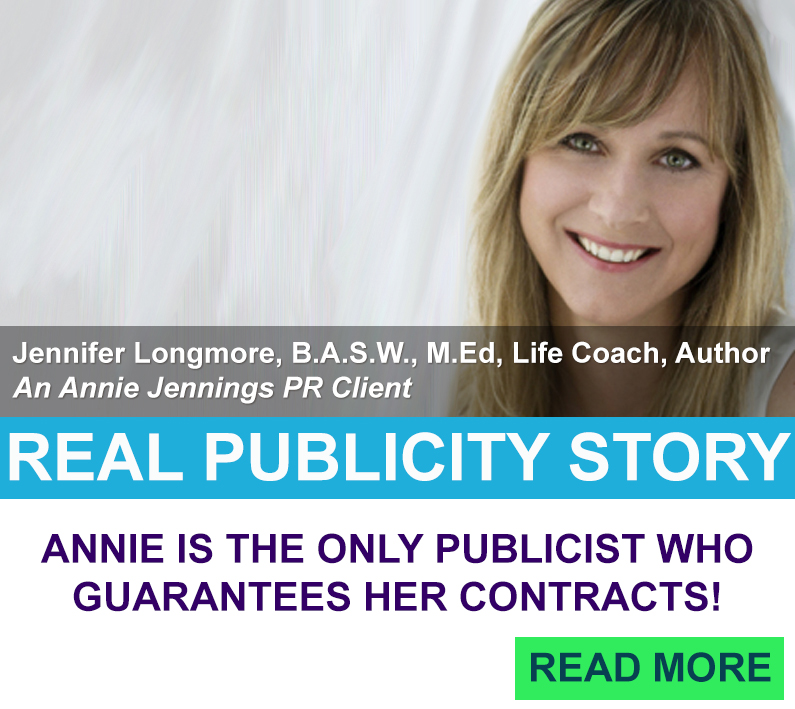 Research to find the best marketing publicist for you.
Choose a PR firm with a proven expertise in providing results in the media you would like to have. Many authors come to Annie Jennings PR after working with us to tell us about all the wonderful things that happened to them as a result of their compaign. You can review real publicity success stories of our clients here. Many authors report they attracted new clients, made new contacts, secured major media to add in their media bio and on their author page. Be sure to ask about the PR firm's area of expertise and history of success. Choose the firm that can demonstrate a consistent ability to get their clients booked on the media.
A lot of business experts want to get booked on the major media including those listed above. The strategy is to find a publicist who is actively booking those media outlets (but remember, you also have to qualify for those outlets in terms of credentials, expertise, media experience. And how well your point of view fits into the segments that will match the profile of their show. Keep in mind that these major TV shows are among the top media in the country. To get booked on these shows the author and/or guest must have plenty of media experience at very high levels of media and be able to provide samples of previous appearances.
In TV, as in all media, the numbers matter. The number of visitors, the number of readers, the number of viewers. The competition for these high level media placements is intense as they are so powerful. Working with an established and respected publicist who regularly books the outlets is key. Annie Jennings PR is a highly qualified PR firm booking the major media. They will help you qualify for the media outlets that fit in with your marketing and growth strategy as well as your expertise and credentials.
The media must book the most qualified expert, the most experienced, the most able to handle the segment well. Annie Jennings PR is a trusted provider of high quality experts, commentators and guests on these shows. Our firm prepares the author properly to excel on the show. The producers know that booking an Annie Jennings PR expert creates certainty that the expert will be developed to the high level of performance they need for the show.
Successful book marketing is a strategy – loaded with the firm's experience and relationships.
You'll want to work with the firm with the most intellectual property that they put to work for you. Why work with a new or inexperienced PR firm where they use their work with you to pay for their learning curve? Remember, there is lots of proof of concept on Annie's skill set in her real publicity success stories.  You will enjoy our publicity clients telling their stories of success and they come from all different walks of life.
Annie knows what to do with each client once she knows your goals. Others tell her she has the blink factor. She instantly knows why you are good.

Book marketing for sales.
To create a strong publicity and media outreach PR strategy, you will need to have a comprehensive approach that touches upon a myriad of outreach strategies. These venues include book parties, events, lectures, speeches, talks at organizations, clubs, businesses and more. Don't forget to excel on social media now as this area of exposure has skyrocketed as an outreach strategy. You can also pursue national exposure with radio talk shows, TV shows and as the contributing expert on major online media sites. But marketing for sales takes a lot of work. With so many books available now via print on demand and self publishing everyone is competing for sales. Getting up close and personal with your audience is a great way to build a relationship and showcase your knowledge, expertise and point of view.
If your message resonates with your listener, viewer or reader, you may have a sale. But so much goes into the actual process that includes factors outside of a publicist's control, such as the price of the book, availability of the book, quality of the writing and even the title and sub-title. That's why Annie recommends you hire professionals who offer a history of success with at least 5+ years of experience. This will help you make the choices you will need to  stand out from the rest of the millions of books available with the authors all wanting the same thing. Sales.
Yes, create an E-Book to optimize your book marketing.
It's a given now that your book has to also be available to readers via an e-book. The growth rate of e-books is exponential at the moment. Readers have adapted to using digital methods to read a book. It is faster and easier to purchase an e-book, satisfying the consumers urge to want it, buy it, have it . . . instantly.
Now, it's time to publish your book in e-book form. Learn all you can about publishing e-books from the production to distribution and use this form of publishing to add to your already growing book marketing strategy. Seems like so much to do, right? I know, as a publicist, I can spend all day creating the perfect segment designed to get the booking. I can only imagine an author trying to coordinate all of the book marketing ideas in play and be in the "everywhere at all times" model of book marketing. Hire people who you can to help. But do not hire those who say they will "try" to help you but still want to be paid regardless of the outcome as that can be a recipe for a disaster.
Book PR for self published authors.
It's not as hard as you may think. The trick is not to look self-published or print on demand. Look professional. Can the media spot an amateur? You bet! The media has a keen eye and of course, has to be responsible in their position of booking the high quality credentialed guests that have a voice that is socially relevant. We have found that the media is more interested in what you have to contribute, your credentials, your area of expertise and media experience than who published your book.
Get the PR advantage – create a strong media BIO.
The media reviews the author's bio. They like to see an established media bio with a rich history of the author appearing on big brand name media outlets. They like when you prove it with links to the media placements. Sometimes a print on demand author or a self-published author may not have a platform built up in the areas they need for a positive media evaluation. Even the author's social media matters and of course the quality and age of the author website.  Our firm, Annie Jennings PR, works with all levels of authors mentoring them on their way up the media ladder.
Can authors pitch themselves to the media?
It is not as easy as many authors would like to think. Many other authors are pitching the media at the same time. The idea of pitching yourself to the media is highly stress. First you have to get through to the person you are calling and have your pitch developed so you can move right through it if you are able to get someone on the phone. Nowadays, it's almost impossible to even get your phone call to the media answered. Everyone is just so busy.
Keep this in mind if you do get through to your media contact: Your pitch call is an audition. If you sound shy, uncertain and stumble over your words, the producer will think you will be shy, uncertain and stumble over your words on the air and will not book you. Your successful strategy depends upon your development of strong presentation and communication skills. You must have a certainty within yourself that you would make a great guest.
When in doubt, hire a PR firm. Seriously, if you doubt that you are ready for media your concerns will show in your presentation style. The media can sense this and avoid working with you. Preparation, practice and media training can help you tremendously. Our radio campaigns come with unlimited media training to teach you the skill set of a media professional. Our PR firm mentors you all the way  up the media success ladder. And why not? We want to see you succeed and enjoy every minute of your publicity outreach. We love when you are successful.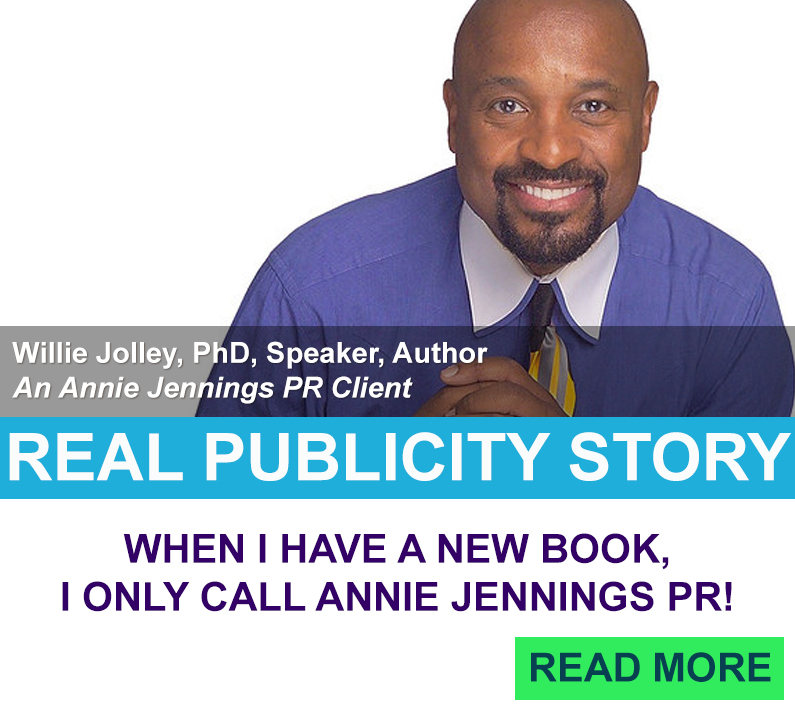 Work with a book marketing professional.
Annie Jennings PR is a branding, publicity and media strategy firm that works with lots of national media TV shows, radio talk shows, news and feature online media venues that include  CNN, FOX News, MSNBC, TODAY, TIME Magazine, US News & World Report, The Street, AOL.com, YAHOO.com, MSN.com, Redbook, Cosmopolitan, Woman's World, Woman's Day, Men's Health, Wall Street Journal, New York Times, Washington Post & many more media outlets.
Effective book marketing strategy.
Why does it seem so hard? It's because there are so many ways to reach your reader. There are also so many ways for the reader to be distracted from you. Plus the print on demand and self-publishing industry has grown tremendously. And it's still increasing as more businesses and experts use writing books as a marketing tool.
It won't get easier, but you can be more successful at it. It might be hard but it first takes a high quality book, socially relevant subject matter and credentials to back up your point of view. Next, it takes being seen and heard by your target market such as appearing on radio talk shows, TV shows, in major online media outlets. Then it takes a publicist. One who knows the industry and is driven to help you success.
Who's that? No question it's Annie Jennings PR!
Why? Annie and her publicity team bring tremendous experience to your book marketing plan. They know who and when to approach the on your behalf.
Annie Jennings PR has a powerful and influential brand. If Annie Jennings PR is behind you, then you must be good.
Book marketing with Annie Jennings PR.