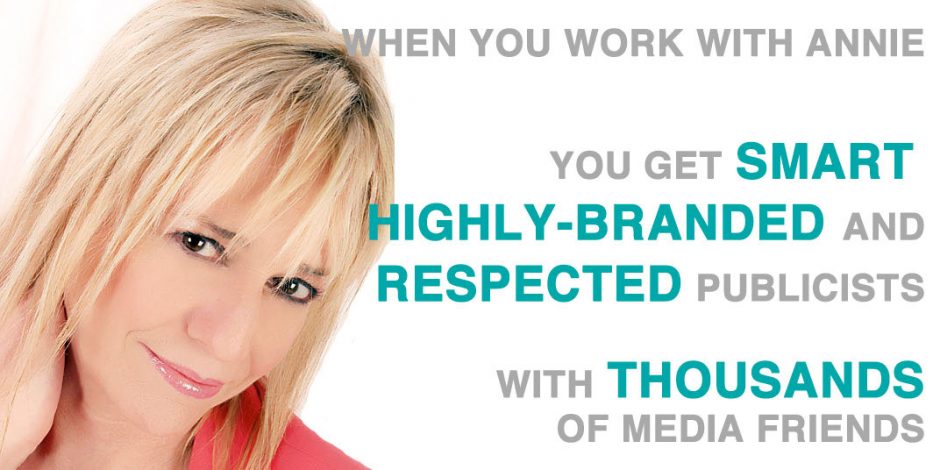 Nobody likes that publicity question except Annie of course.
Because she knows that an educated author wonders 'how do I invest my publicity dollars?' rather than simply spend them.
Yes, there is a difference. Investing in a strong publicity program offers a return. Spending on a PR Firm trying to get you publicity does not necessarily yield a return. And some authors can actually wind up squandering their publicity dollars.
So when you ask "what about Annie Jennings PR?" They know that you know about earning a return on investment on your publicity dollars, or in other words, you know to ask what's in it FOR YOU.
You see, Annie likes educated authors that purchase publicity deliverables with a guarantee of performance.  She likes to build up authors to their highest potential. Annie likes winning.
Annie loves seeing your publicity turn into YOU living your dream.
So no matter who pitches you to become their publicity client, your first question should be "but what about Annie Jennings PR?".
And watch their reaction. Now they know you are a savvy author who understands and appreciates the value of all that Annie's PR firm offers, such as:
Guaranteed deliverables so you know exactly what you are getting
Unlimited media training so you are confident and ready
Publicists with deep and trusted media relationships
Hand-crafted media presentations showcasing you at your highest potential
Respected publicity firm that goes after the YES for you
BOOKED is one of our favorite words
The firm that does not use the word "try"
Annie Jennings PR's radio publicity campaign does NOT book shows with the following profile:
No shows in the middle of nowhere
No shows on the outskirts of the markets
No show in the middle of the night
No low listenership shows
No internet shows
No college shows
Annie Jennings PR clients just get publicity on the big radio talk shows in the major cities plus the regional and/or nationally syndicated shows.
Annie says "I respect all media however our company provides cross country exposure by booking the biggest shows in the biggest markets that have high-impact listenership. We blanket the USA by booking the regional and nationally syndicated shows that offer broad-based exposure.
One client recently said "be careful what you wish for, because Annie will get it for you."
Why not get a top of the line radio campaign for yourself? Go with the big brand name of Annie Jennings PR.  Here is the sign up button. You can have it all! All heart, Annie