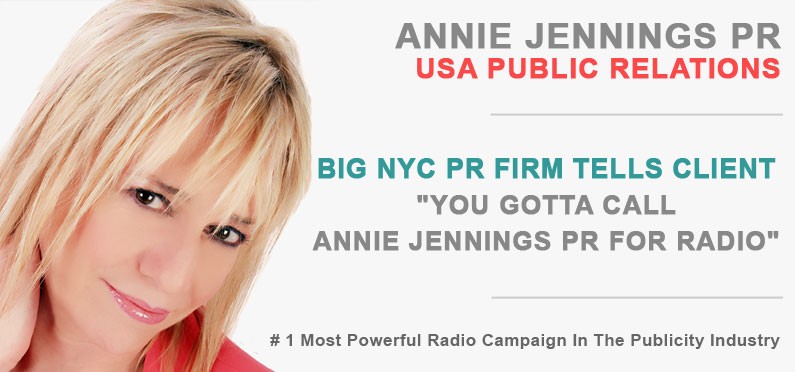 It could be official. Annie Jennings PR offers the best radio campaign
Annie Jennings PR is so good at booking radio talk shows that even the big PR firms that would otherwise be her competitors have no choice but to send her their clients.
But why?
Because nobody does radio better than Annie.  And these PR firms know it.
And they know their clients know it.
So rather than lose their clients all together to Annie, why not just bring Annie in for the radio publicity?
"I don't mind competitors," says Annie. "Because competition makes the deliverables to the client stronger and we always work for the betterment of all. We are in it for the author's success."
So now other PR firms are asking Annie Jennings PR to fulfill their radio campaigns
One major PR firm in LA called Annie last week and said "look, we can't compete with you. It would take too much time to build up a radio booking division that could even touch what you guys can book easily. We tried to starting booking what Annie's PR firm books and was told by one producer to leave them alone."
So they entered into a partnership with Annie. No problem.
The question most people have is how did she get so good?
Annie explains how her PR firm became #1 in radio bookings. She says had a Jerry McGuire moment in her office . . . where she stood up and said "we are setting new standards for the publicity industry starting right here. From now on, our clients are only booked on radio talk shows that are the big ones in the big markets and on the nationally syndicated stations."
And then she added the kicker, "and we will offer a performance guarantee that the radio campaign will be delivered as promised or we won't accept their money."
Who's in?
She looked over her staff hoping they would all agree. Because it would be a challenge. To create the #1 radio talk show campaign in the industry and guarantee its delivery.
Creating the most powerful radio campaign could have been risky
Everyone knew it was possible they could go out of business – offering a radio campaign so big and so powerful that it had never before been even attempted by any PR firm in the industry. And to offer the campaign with guaranteed deliverables – wow.
But it was a chance Annie was willing to take. And her PR firm was willing to take it with her.
It didn't take long.
Everyone's hand went up.
We're in.
The rest is history.
Annie is the #1 provider of radio talk show bookings
She says "we can develop any client into a savvy, prepared and confident guest that the media wants to book on the show. We have the long-term relationships in place and know how to create media demand."
"My dream was for everyone to rise to their highest levels of achievement and help others for the betterment of all. To do that, we raised the bar."
Thank you to all who helped us along the way. And yes, this means YOU.
Want to get in on the action? Just click on the button below and here we go!
Book Promotion, Radio Campaign, PR Firm, Publicity Services