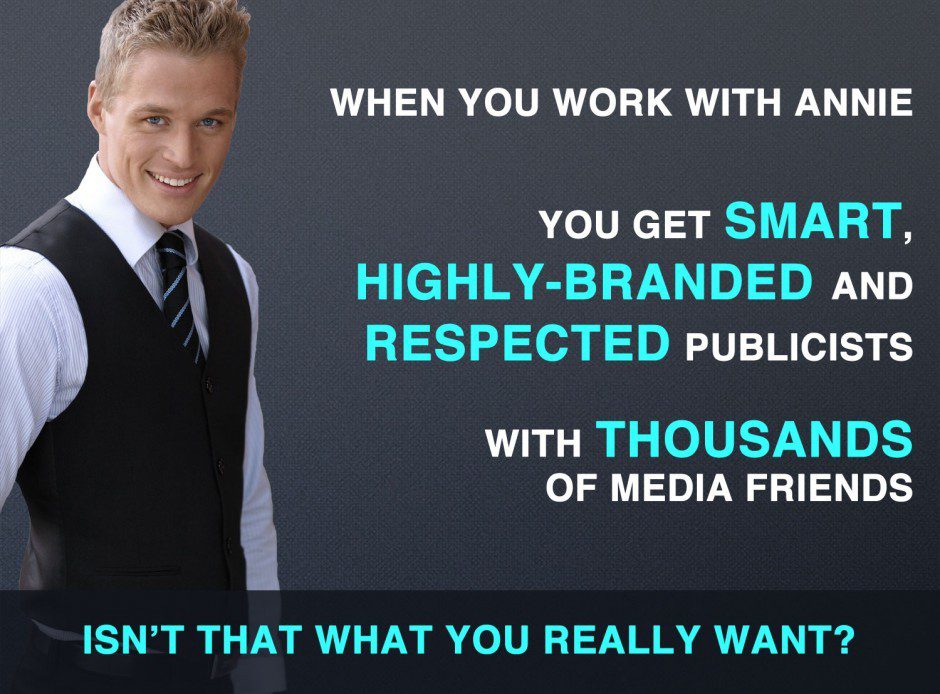 How Working With Annie Can Change Your Life
Annie Jennings PR enjoys a successful relationship with the media. The media respects us. They respect our next level pitch ideas. They respect the quality clients we represent.
We have carefully guarded our brand in this rapid growth cycle of the internet where others can make deadly mistakes and have made them – much to their own detriment and that of their clients.
Our clients benefit a great deal from our strong reputation. The media knows that when our PR firm asks them to consider certain ideas that they are good ones. The media is willing to listen to what our clients have to say and they know our pitches will be worth their time as they are consistently interesting, socially relevant and just right for them.
We have pitching secrets. Of course we do, or we wouldn't be one of the only pay for placement firms that consistently books the highest level media outlets. These are the media outlets that everyone wants to be on, to be seen by and next to, the big experts that represent where you want to be in your career. With Annie's firm, you can be right alongside them on your way to the top.
We will share with you one of our secrets now – we bring on ideal clients.
These are some of the attributes we look for in a client that make it a joy to work with them and watch their rise to the top of their industry.
Ethics. As one of the top PR firms enjoying a strong and prominent brand positioning in the marketplace our choice of clients has never been more important. The media has come to expect access to the style of experts that we move up the ladder using our proprietary methods.
Trust. The client is coming to us pure of heart, sincerely seeking out major media placements to move up in their industry and showcase themselves as leaders and influencers.
Experience. They been around the marketing block a few times and know what definitely did not work for them. They have had enough of the fancy PR proposal promises only to be left disappointed with either no meaningful return on their time and investment. They have enough experience to know that being with Annie is about being in the right place at the right time.
Respect. Annie Jennings PR helps authors, experts and speakers reach their most optimal levels of success. We have a time-proven success strategy in place that allows clients to rise to the highest level they can achieve. Our best (and most successful) clients respect our brand and our strategies.
Faith. They know that we know how to be successful for them and are able to follow our lead. They have the gut instinct that says they are with the right publicity strategist to help them achieve their goals.
When you work with Annie you access smart, highly branded and respected publicists with thousands of media friends. Isn't that what you really want?
Annie Jennings PR is the creator of the most influential media campaigns the industry has enjoyed over the last 20 years and specializes in recognizing your unique contribution to society today. Many of the biggest media brands have let Annie know that her firm is one of the best in the industry.
Yes, Annie "gets" you – totally.
The prestigious Annie Jennings PR firm's radio talk show interview campaign includes a guarantee of performance for bookings on the major, high-impact, high-listenership radio shows in the most powerful cities in the country as well as on the nationally syndicated radio shows that blanket the USA. This radio campaign includes unlimited media training with a former award-winning producer with CBS Radio, so you can be a great guest and of course, the work of our highly experienced professional publicists who know just how to get you booked on shows that empower your brand.
In addition to offering the #1 radio campaign Annie Jennings PR offers their famous pay for performance publicity model where clients can select the publicity path that results in the most power, credibility and thought leadership for them in the areas of TV, print and online. 
Whether you are interested in book promotion, creating your brand advantage or showcasing your skills to build relevance and market demand for you in our society today, Annie Jennings PR has developed a positional asset strategy that has proven itself via the success of others. This proof of concept is available here.