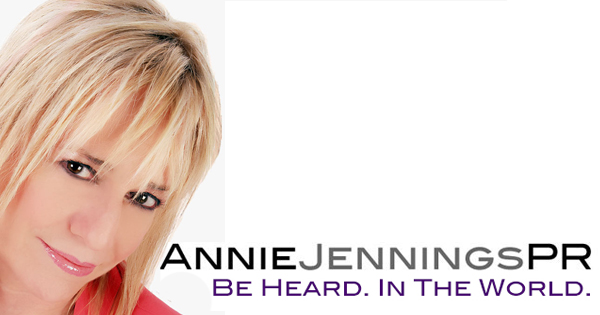 #AuthorAdvocateAnnieJennings
We asked our real client Dan, what he would say to those thinking of working with #AnnieJenningsPR. Dan said "I had other PR firms that I have given monthly retainers to and I got nothing. Here you guys (Annie Jennings) are and within 24 hours I had 5 national bookings going.
So I would say this to those thinking about working with Annie "quit thinking, start doing. Do it! I think a lot of people are really hesitant about some publicity firms because you hear the horror stories, you know, the "I got nothing for my money".
There is nothing to be hesitant about with Annie Jennings. Annie's PR team delivers and delivers immediately. If somebody is thinking about it, just do it. It will be the best thing you ever did for your career.
Note from Annie: NO RETAINERS, JUST PERFORMANCE. Our media campaigns come with unlimited media training at no cost to our clients, a performance guarantee and the big brand media placements to help you create credibility, influence and clout.
By using the button below, you can fill out an interest form and speak with Annie about your publicity goals and objectives.

Annie Jennings PR Public Relations firm works with authors, experts and speakers to land media opportunities for them that further their career and help them share their important messages. Get your expert status, media placements, book promotion and author marketing with the top public relations firm that has outstanding experience and a rich history of media success.
Annie Jennings PR has worked with thousands of authors, speakers and experts. A recent count of media bookings the PR, marketing and publicity team at Annie's have booked for their clients is at over 25,000 media bookings and placements. And we stopped counting about halfway through! Over the years we are proud of the work our firm had done to help authors live their dreams out loud and helped change the world – as they say – one message, one client, one booking at a time.
Clients often tell Annie that she believed in them from the start even when they did not know how they fit in with society and the trends of the day. These clients say as they worked with Annie, they started to realize that they were indeed special. They discovered their voice and how it spoke to the issues our society is facing today. One client says "it's transformational" to work with Annie Jennings PR.
Annie Jennings PR offers performance guaranteed publicity and guaranteed deliverables to her clients. Annie's top market radio talk show interview campaign helps authors create meaningful and valuable messaging to share with the world. Annie Jennings PR books authors on the big radio talk shows in the major cities. Each radio publicity campaign includes unlimited media training. Your media training is conducted  by a former award-winning producer so you are confident, prepared and media savvy for your radio publicity interviews.
The Annie Jennings PR firm is located in the NYC area, although works nationwide with authors and clients everywhere, and is held in high regard by the media.
Annie says "I stand for authors. It is my dream for everyone to contribute their special talents and messages to the world and our firm has created PR strategies that help deliver this outreach for our clients." Annie adds, "our firm is proud of the work we do and the value we offer our clients."
Just recently, one major media journalist wished more PR firms would pitch their clients and and work with the professionalism of Annie Jennings PR. Now that's a compliment!