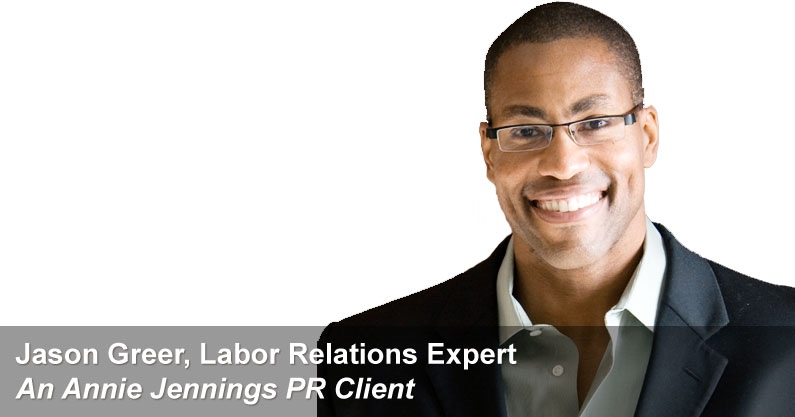 Publicity & book promotion real story podcast
Take a sneak peak behind the scenes on how Annie's real clients achieve great success in their publicity campaigns and PR initiatives.
In this publicity podcast, Race & Labor Relations Expert, Jason Greer MSW, Founder and President of Greer Consulting, Inc. tells what it is like to work with Annie. Authors and experts love that she continuously produces outstanding results for her clients. Her clients appreciate that she delivers media that they can leverage into more opportunities that lead to their growth and development.
Something good will happen to you when you trust Annie Jennings PR with your publicity & book promotion.
Listen Here
Real PR Story: "Annie Opened Doors For Me That I Could Not Open For Myself" Says Author Jason Greer
As a result of working with Annie's publicity team, Jason Greer has become the "Go To" Diversity Expert for WTOP Radio in Washington DC and a trusted source in the latest race and labor relations news for media across the country, including The Wall Street Journal, Forbes and FOX News Radio.
Annie's team booked him on big major media: Highly rated CBS, ABC, and iHeart Media Network stations in top markets such as New York City, Chicago, Dallas, Detroit, DC and Atlanta have all called upon Jason's expertise. In addition to his work as a National Media Expert, Jason Greer is also a #1 Amazon.com Best Selling Author for the book People Matter Most.
Why work with Annie Jennings PR to get booked on TV and radio shows, online and in print?
Annie's radio talk show interview campaign comes with a performance guarantee and UNLIMITED MEDIA TRAINING:  Annie Jennings is the creator of the most powerful radio talk show publicity and book promotion campaign in the country where you are booked on high impact radio shows in top cities and top markets. Annie is also famous for her pay for placement publicity programs that include bookings on National TV, in Print and Online Media.
Clients love Annie's innovative and desirable approach to publicity as they are only investing in media opportunities they feel are right for their overall book promotion and marketing goals and objectives.
"Annie Jennings PR catapulted me into the national conversation. Now people contact me directly to hear what I have to say. I could not have asked for more," says real client and author, Jason Greer.
In this podcast, Jason was asked the following and he reveals how it all worked out for him.
Why did you decide to work with Annie Jennings PR for your publicity?
I really wanted an opportunity to join national conversations on topics that are meaningful to me such as labor relations and diversity issues. The clincher for me was initially talking with Annie Jennings as her energy and vision was incredible. Plus, they guarantee their work.
How was your experience working with the performance specialists on Annie's radio talk show team?
Incredible. I deal primarily with Stacy and she has been first class beyond belief. The team was constantly sending me news articles relevant to my interviews so that I could cite facts and be seen as a subject matter expert. They helped me realize my potential as a contributor not just to the media, but to society and the world.
What are you doing to leverage the big brand name media?
Now I have instant credibility specifically because I've been featured on Fox News affiliates, ABC, CBS, Forbes and other media. My interviews have literally become a walking billboard! I've learned through Annie how to promote myself with social media and gained followers by doing so, which continues to open doors.
Did working with Annie create a competitive advantage for you?
Yes. I've become the featured diversity subject matter expert for a couple news stations. It has helped me in terms of being seen as a prime time player and has given me a leg up on my competition for speaking and consulting work.
What role did Annie Jennings PR play in your fast and tremendous rise to the expert level?
They made this happen. They opened doors for me that I would not have been able to open for myself. I would never have imagined that the media would come to me and be interested in my insight on current events and how they affect society. Now they do. Plus I am not having a hard time booking speaking engagements or other opportunities since being an Annie Jennings PR client.  There's no going back after working with Annie.
To learn more about Jason Greer MSW, his book People Matter Most, and his consulting and speaking work please visit www.GreerConsultingInc.com
Listen Here
Real PR Story: "Annie Opened Doors For Me That I Could Not Open For Myself" Says Author Jason Greer
Want book promotion and publicity for your new book?
Just fill out the form here and let Annie know you want her to help you with book marketing and PR. You will love Annie's blockbuster radio talk show campaign that comes with truly unlimited media training and a performance guarantee. You are booked on the bigger radio shows in the top markets/cities in the country with regionally and nationally syndicated radio talk shows included. This is how our real story PR client above, Jason Greer achieved tremendous business growth and success.
Talk to Annie about your own success strategy: You can speak with Annie about your personal book promotion success strategy ASAP by filling out this publicity interest form –  https://www.anniejenningspr.com/expert-signup.html
This real story of success podcast is presented by Annie Jennings, of the National Publicity Firm, Annie Jennings PR and the creator of JenningsWire online magazine. For more information on how you too can experience radio success, please visit www.anniejenningspr.com