Getting TV publicity is key to creating expert status for yourself.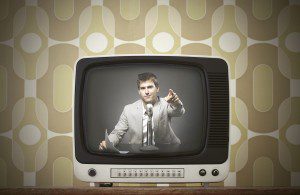 Annie Jennings is a National Publicist and founder of the National PR Firm, Annie Jennings PR.  Annie Jennings PR is a NYC area publicity firm that specializes in media bookings on TV, radio, print and internet news media.  Annie Jennings works with career professionals, authors, experts, companies and CEO's who wish to obtain media bookings to help share their message and showcase their wisdom, credentials and expertise.
Getting booked on TV shows, either national or local, helps you create national expert status, thought leader status and this in turn, gives you an incredible competitive edge.
Tip #1 to help get booked on TV & being a stand out TV guest
Authors and experts should jumpstart their TV publicity strategy by making a list of everything you can talk about that is important to your industry. Next, for TV publicity you will want to expand your list to include real word scenarios likely to exist for your target market. So here's an example, if you are a career expert expand your abilities to comment by looking at the subtopics that affect careers such as "how to get a job when everyone else is losing theirs" or "how to stand out in a pile of resumes. Create expansion points or talking points for each of these sub-categories and you are on your way. TV publicity bookings are on the way.
Stay tune for more tips!
Annie Jennings PR provides media booking services to authors and experts for Network TV (NBC, ABC, CBC),) Cable News Networks (FOX NEWS CHANNEL, FOX Business, CNN, CNBC, MSNBC), Major Market Radio (High Impact, High Listenership Radio Bookings), Top Level High Circulation Magazines (TIME Magazine, NEWSWEEK, US NEWS, Kiplinger's MONEY Magazine, Redbook, Woman's Day, Woman's World & more) as well as impressive internet marketing with media placements on high ranking, high visitorship news sites (WSJ.com, CNN.com, FOXNEWS.com, AOL.com, YAHOO.com, TheStreet.com, NYTIMES.com and more).
Annie Jennings PR is famous for the pay for play performance based publicity programs and expert status credibility building programs that thousands of businesses have used to promote themselves. Annie Jennings herself is well known for her BLINK FACTOR where she instantly knows why you are good and can identify your personal path to success. Don't miss your chance to work with us as some people say "magic happens at Annie Jennings PR".
Get Booked On TV With The Famous Annie Jennings PR, NYC Area TV Publicist