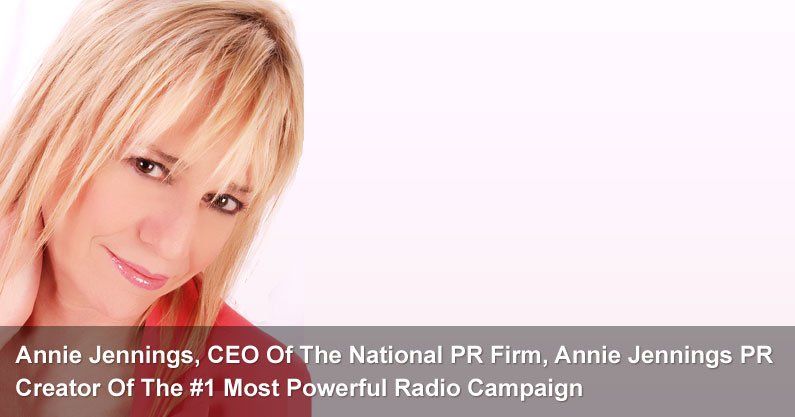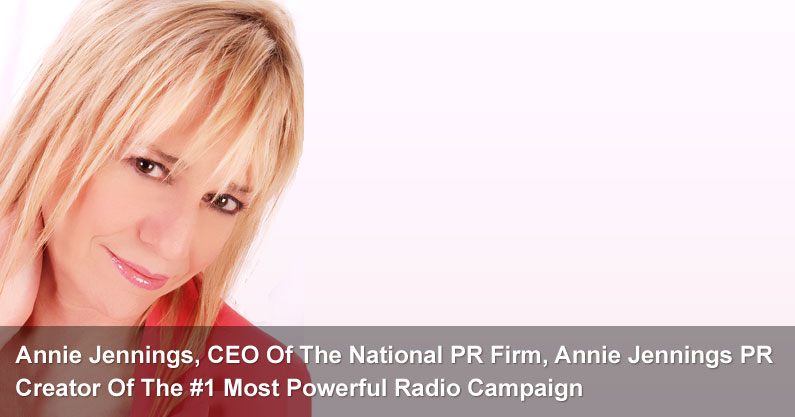 Book promotion via radio talk shows is a powerful cornerstone of an author's success.
Get booked on radio talk shows is one of the top ways to get your message out across the country. Authors can tour the nation very quickly via radio phones talk show interviews. There is no travel, no makeup, hair or wardrobe expenses yet your voice can be heard throughout America.
Can authors promote a book in the radio interview?
YES, you can promote your book during the interview to thousands of listeners at once. Annie's PR team sets you up with the biggest radio talk shows in the most major of markets plus you get bookings on the regional and nationally syndicated radio shows too allowing you to totally maximize your book promotion efforts.
Tour the USA to promote your book via phone interviews
It's nice to tour the USA with your book's message without the high costs of travel in terms of time, money and energy. Getting booked as a guest on radio talk shows is a fundamental element to an author's book promotion success. It's so easy and so fast to get "out there" with radio talk shows. I love the fact that the shows are all phoners meaning you get to blanket the nation with telephone interviews alone. Nice.
In this book PR podcast nationally recognized Publicist, Annie Jennings of the book promotion and publicity specialty PR firm, and her radio talk show campaign director, Stacy Kauffman, discuss how to use the radio media as a starting point in your success and enjoy it's high powered exposure.
The Annie Jennings PR book publicity podcast series is designed to bring you the latest in publicity strategy that not only helps you speak to the nation but in a way that also creates a competitive advantage and opens the door for other opportunities for you in other areas of your work and life.
Listen Here
Top #1 Publicist, Annie Jennings, On Why Authors LOVE Radio Talk Shows For Book Promotion
Annie Jennings of the National PR firm is known by many as the book promotion publicist who has created many of the concepts used in the publicity industry today including pay for performance publicity model, the guaranteed deliverable radio talk show campaign that includes unlimited media training with a professional on staff trainer and the author expert platform strategy.
Why are radio talk shows a good place to start with your publicity and book promotion?
Radio gets the ball rolling for you without a lot of effort, time or money. Yet you can pack your media bio with meaningful and impressive name brand media. The idea is to get booked on a top radio talk show in the major cities and in the most influential markets and on nationally syndicated shows and networks.  You want the high impact, high listenership radio talk shows that allow you to share your message with many people, help you create national expert status and hone your media skills.
Why is getting booked on radio shows the fundamental element of book promotion?
REAL AUTHORS TELL ANNIE About Their Book Promotion Success: 
Annie's radio talk show clients report that they experienced outcomes important to them such as broadening their audience, creating a stronger brand, being associated with major media to build an influential bio, creating a competitive advantage and much more including  being able to:
Build 

outstanding confidence

 in their presentation skills

Enhance their credibility

 and standing in their area of expertise
Experience the pleasure of knowing they increased awareness and 

influenced lives

Promote their book

s, products and websites while on the radio show

Reach deep across the country from coast to coast

 from the comfort of their home or office (shows are "phoners")
Get up

close and personal with their listeners in a LIVE 

setting on major shows in big cities
Annie Jennings PR also books radio interviews on the Regionally & Nationally Syndicated radio shows that reach numerous markets with just one interview. Nationally syndicated shows offer tremendous exposure and ability to blanket the country with your message.  These shows are extremely powerful.
GUARANTEED RADIO PUBLICITY CAMPAIGN:  All radio talk show campaigns have a guaranteed deliverable. That means that Annie Jennings PR guarantees the radio shows will be booked according to the contract provisions. The famous Annie Jennings PR radio campaign includes:
•              Professional UNLIMITED media training for the duration of your radio campaign
•              Media trainer conducts a PRACTICE interview just like you can expect on your real interviews
•              Message creation and content strategy development
•              Advance headliner status booking strategy that gets you booked on the bigger shows
•              Access to the Annie Jennings PR 24/7 news division
•              Creation of socially relevant and cutting edge news hooks
•              Professional, highly skilled, media savvy radio bookers with mega experience
Annie Jennings is a national book promotion publicist that works with authors on getting publicity on their books.  Annie Jennings is a publicist to authors who are self published, print on demand or published by traditional publishing houses.